SOLD Antique Jerusalem School Mother-of-Pearl Orthodox Christian Icon Baptism of Jesus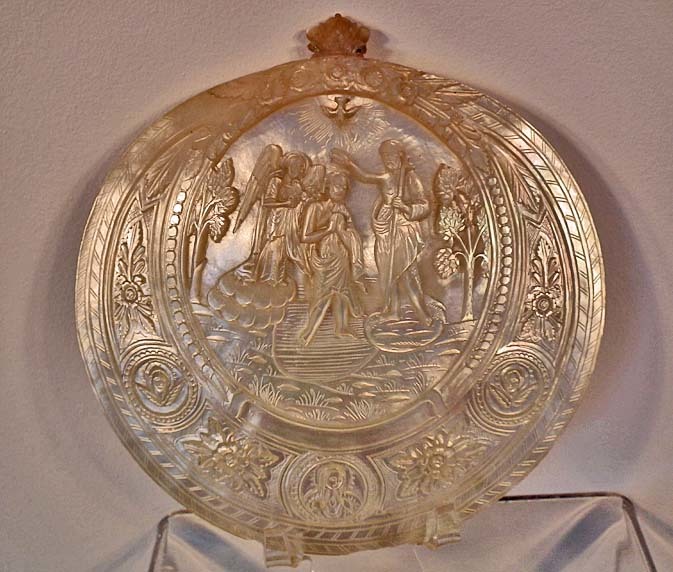 SOLD Antique, 19th century, Jerusalem School, Mother-of-Pearl, Orthodox Christian Icon of convex oval form finely carved in low relief with a central oval medallion depicting the Baptism of Jesus, in Jordan river, by John the Baptist, as recorded in the Biblical Gospels of Matthew, Mark and Luke. Also depicting the winged angel, to the left, the Holy Spirit descending on him as a dove. Bordered with floral adornment and two small, round medallions with the winged heads of cherubs, and the bottom medallion depict the Blessed Virgin Mary with Immaculate Heart.
REFERENCES:
1. CHRISTIAN IN THE HOLY LAND – The Art Of Melchites And Other Denominations Of Orthodox Church" Saint Petersburg 1998.
2. El Arte Palestino de Tallar el Nacar by Fabián Jiménez.
3. Pilgrim Treasures from the Hermitage: Byzantium - Jerusalem: Lund Humphries.
Please note that this particular medallion is a museum Quality art work, and in fact, it could be displayed in the most reputable world museums.
Comparable Mother of Pearl medallions are in the collection of The State Hermitage Museum in Saint Petersburg, Museo Oceanografico di Monaco and also in the The Sergiev Posad State History and Art Museum.
Please see the link below;
http://www.musobl.divo.ru/Ecoll_mplastikaN1.html
MEASUREMENTS: Height of the shell: 14.7 cm (5 3/4 in). Width: 14.8 cm (5 3/4 inches).
Due to the shiny surface of the Mother-of-Pearl, it is difficult to photograph. The pictures do not show the details of the carving, or the real sparkling pearl color of the surface.