SOLD Antique Islamic Indonesian-Java Kris Keris Sword Dagger Madura Donoriko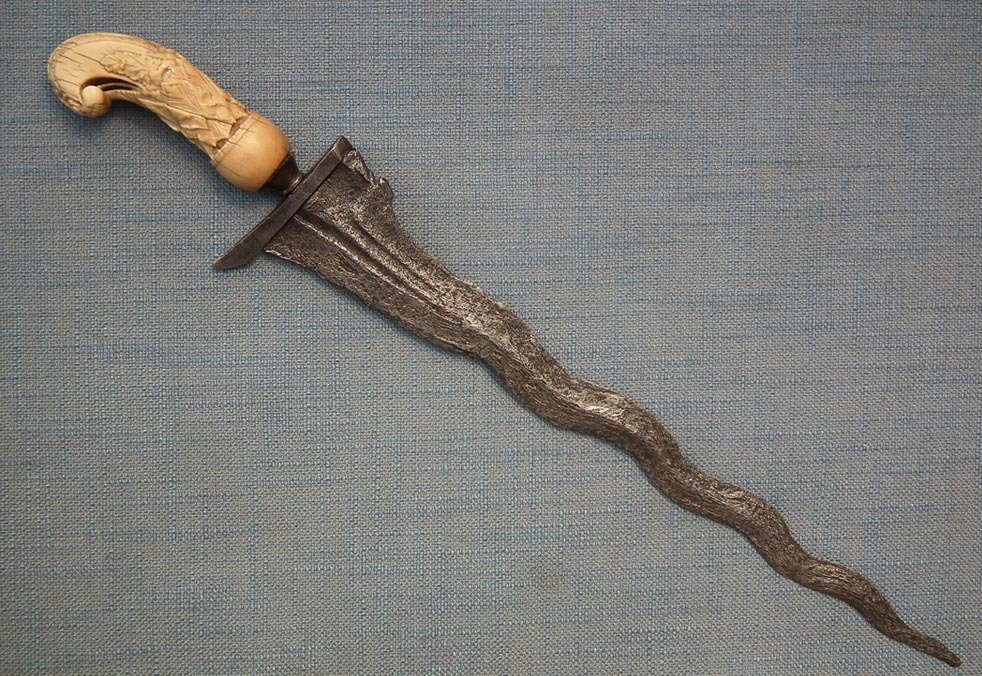 SOLD A fine antique Islamic Indonesian-Java short sword - dagger Madura Donoriko, Kris – Keris . The very sturdy blade with 10 luks, finely hand forged with beautiful Pamor Ngulit Semangka (dated to 15th–18th Century A.D). Mounted in the 18th-19th century fittings including hilt, in Donoriko style, pierced and finely carved in relief with intricate floral and fern-like scrolling motives.

Since high-quality, Keris blades made of Pamor were very valuable and would not go out of fashion or style, were part of the pustaka or heirlooms of the aristocracy to be passed from generation to generation. They were considered to have magic and to imbue magic and power on their owners. So, the fine old blades, dating back I as far as the fifteenth century were still used during the 19th century but remounted with a new 19th century mountings. It was also practiced in Japan when the expensive old sword blades were remounted to a new mounting and were still used in 19th and 20th century.

Madura being a primarily Islamic island off the east coast of Java and near to Bali, all of which are parts of the Indonesian archipelago.

CONDITION: Showing the age and usage, the mandok ring is a leather replacement because this high-quality Krises in many cases has an mondok made of pure gold, set with diamonds or other precious stones, so in the later time they were often changed for less expensive mandok, warangka chipped. Otherwise in good condition. Hilt It has a superb honeyed patina with age cracks (as common in these type material) that accords with an 18th century dating.

Please notice that the pictures in the listing are part of the description of the condition of the object

MEASUREMENTS:Overall length with the scabbard: 43 cm (16.93 inches)
REFERENCES
1.The Invincible Krises 2 by Vanna Ghiringhelli
2. Kris Gli Invincibili: Kris The Invincible [The invincible krises] by Vanna Ghiringhelli
3. Traditional Weapons of the Indonesian Archipelago by Albert G. van Zonneveld