SOLD Antique Islamic Ceramic Blue And White Dish Multan Pakistan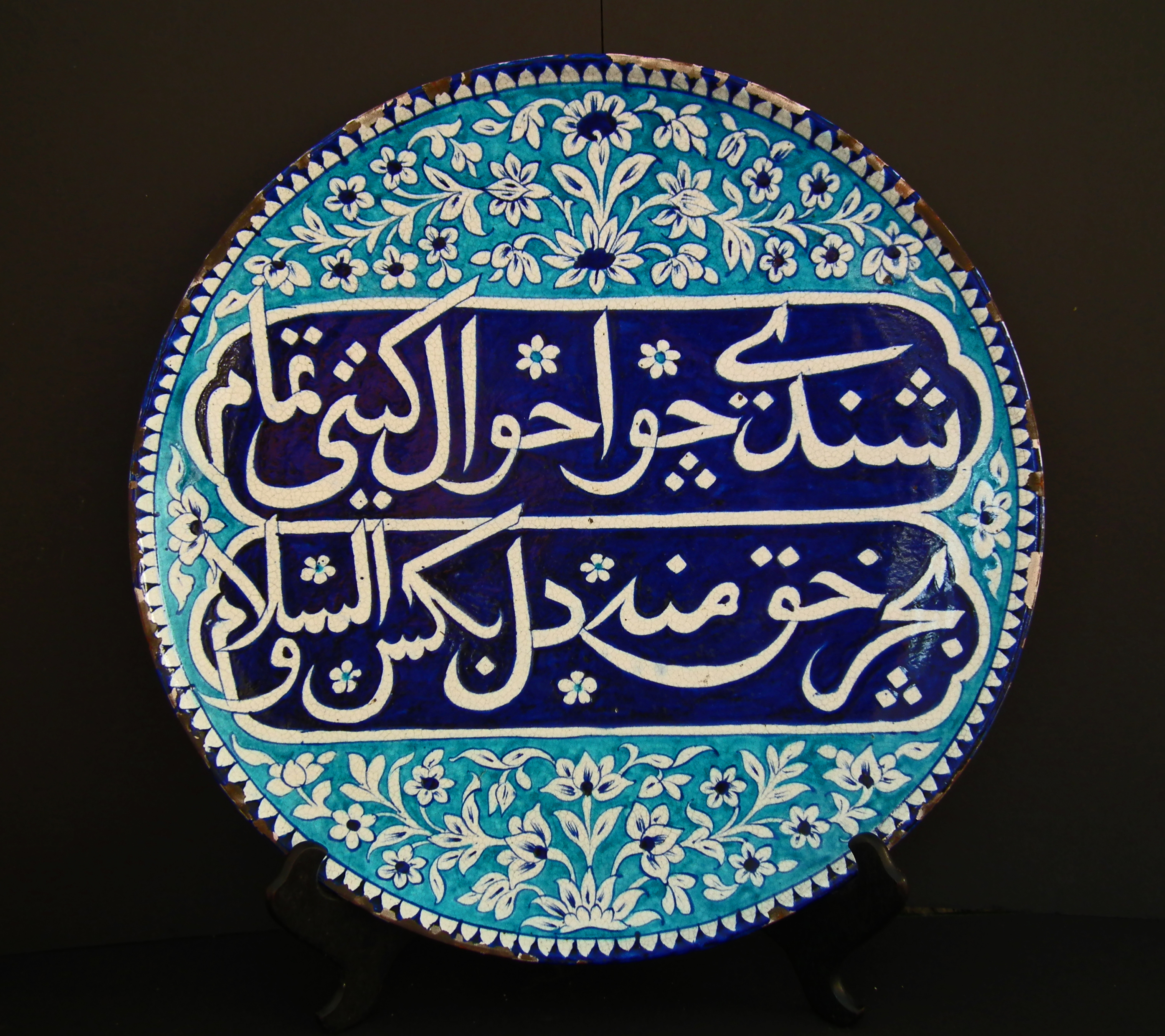 SOLD A superb quality Antique 18th-19th century, Multan, Punjabi, Indian (now Pakistan), Islamic ceramic large dish of shallow form on a straight foot finely hand painted under crackle glaze in turquoise and cobalt-blue on a white ground the center with two cartouches containing a Verse in Old Persian (Farsi) language written in Arabic Thuluth calligraphy

"Now that I heard about the world affairs I learned not to trust but God".

The background decorated with an elegant floral spray, the rim with controlled cobalt blue drips.

From the early Mughal period in India for several centuries, the Persian language reigned not only as the court and administrative language but also as the language of scholars and poets; also many art objects were adorned with Persian inscriptions, and the adage still holds good in the 19th century.

REFERENCES

1.Comparable Multan dish was sold at Christie's South Kensington ARTS & TEXTILES OF THE ISLAMIC & INDIAN WORLDS 9 October 2015. SOLD for GBP 3,000 / USD 4,608

Please see the link below:
http://www.christies.com/lotfinder/Lot/a-large-multan-blue-and-turquoise-pottery-5925778-details.aspx

2. Another related Multan dish was for sale at Sotheby's London Art of Imperial India 09 October 2013 priced GBP 3,000 / USD 4,608
Please see the link below:
http://www.sothebys.com/en/auctions/ecatalogue/2013/art-imperial-india-l13502/lot.266.html

MEASUREMENTS


Diameter: 48.2 cm (19 inches)
Height: 6.2 cm (2.44 inches)

WEIGHT: Approximately over 4 kg (8 pounds)

CONDITION: In its original good condition with a nice patina and good signs of age and usage. Some flaking from age on the rim of the plate. No cracks, repairs, or restorations.