SOLD Antique Imperial Japanese Army Military Officer Kyu Gunto Sword Pattern 1873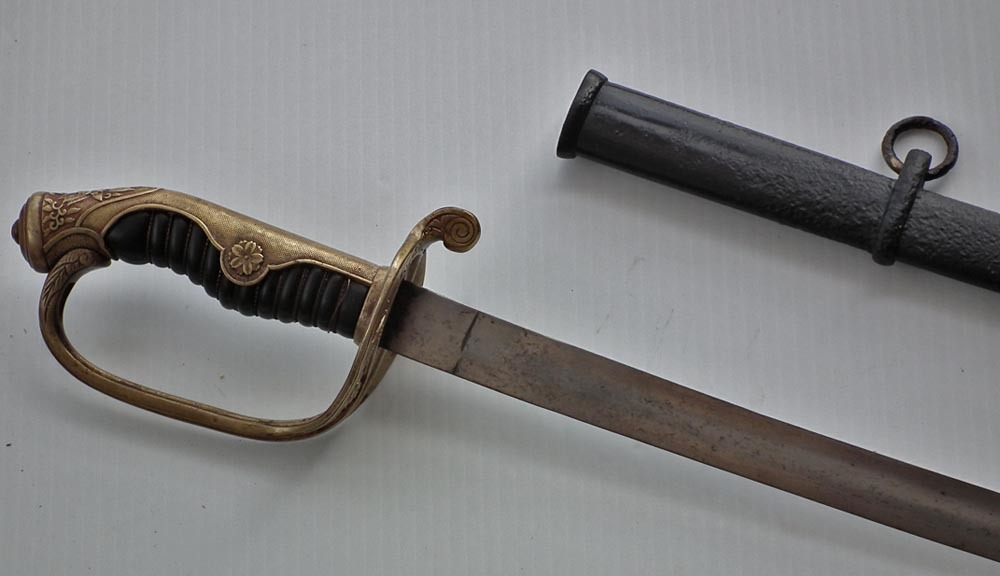 SOLD Authentic, Antique Imperial Japanese army military officer, kyu gunto, sword pattern 1873. Used throughout the WWII War.
Brass hilt with single "D" knuckle, bow pierced guard decorated with ten petal cherry blossom and foliage. Back-strap decorated on the ears with ten petal cherry blossom, and the ornate cherry blossom amidst floral design on the pommel. Dark brown horn ribbed grip with wire binding. An unmarked, slightly curved, nickel plated steel blade with shallow fuller, in black painted steel scabbard with single suspension ring.
CONDITION: Showing the age and usage, nickel-plated blade with wear, the scabbard had been repainted recently over its corroded surface and bent in the lower part, some loss to the wire binding.
MEASUREMENTS: Overall length with the scabbard: 96.5 cm (38 in). Length of the sword without the scabbard: 90.5 cm (35 5/8 in). Length of the blade: 77.5 cm (30 1/2 in).
REFERENCES: Swords of Imperial Japan, 1868 – 1945 by Jim Dawson.
Many of this type of swords, which are for sale on the market, are currently reproduced in China and misrepresented as the genuine antiques. These reproductions do not have any historical, or investment value. We would like to inform our clients that this is a 100% authentic, antique sword, and is accompanied by a Certificate of Authenticity.