SOLD Antique Civil War American Bowie Knife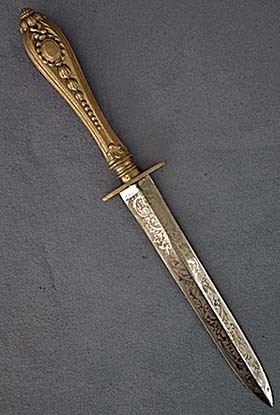 SOLD Authentic antique 19th century circa 1860 Civil War period American Bowie Knife. A spear point double edged blade, with diamond section etched over one side against a mat ground, with foliage and the motto's "THE PRIDE AMERICANS", "EQUAL RIGHTS", "EQUAL LAWS", "AND JUSTICE". With a characteristic brass hilt comprising an elaborately shaped handle, embossed with rococo foliage, with an oval guard.
REFERENCES: For similar Bowie knives please see (a) "Civil War Knives" by Marc Newman page: 36 (b) "IXL means I EXCEL A short history of the Bowie Knife" by William R.Williamson. Page: 23 (c) "Bowie Knives" by Robert Abels Page: 11 (d) "A Sure Defence - The Bowie Knife Book" by Kenneth J. Burton. Page: 32, 36, 54.
The buyer will be provided with a copy of the pages from the mentioned references, together with the certificate of authenticity.
CONDITION: The knife is in very good condition considering its age (approximately 150 years old), with clearly visible engravings, no repairs, or restorations.
MEASUREMENTS: Overall length: 24.8 cm (9 3/4 in). Length of the blade: 14 cm (5 1/2 in).