SOLD Antique Ceylonese Sinhalese Sword Kastane 17th -18th century Ceylon Sri Lanka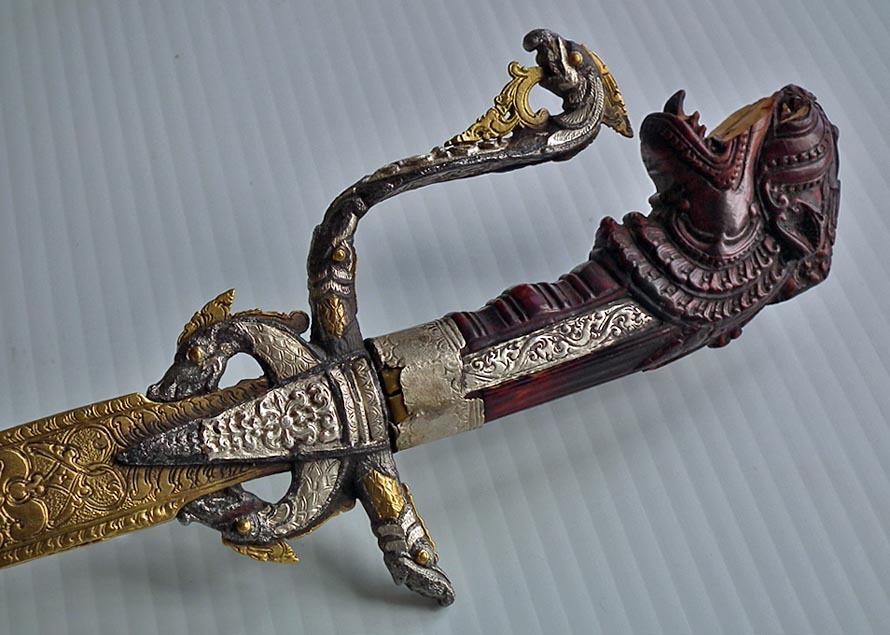 SOLD An extremely fine quality Antique 17th -18th century Sri Lanka, Ceylonese Sinhalese aristocrat sword, Kastane, with a sturdy single edged curved steel blade with short central fuller, the forte inlaid with brass panels, engraved with foliated scrolls. The hilt is of characteristic form with a silver inlaid grip rising to a finely carved Makara, (Mythical sea dragon) head pommel.
Superb quality steel guard with finials elaborately carved in relief with Garuda eagle heads and the mythical dragon heads, applied with silver and brass panels, engraved with scrollwork.
CONDITION: Overall good condition, and a good old representative example; some losses to the silver overlays, the Makara head damaged, blade pitted. The carved Makara grip originally was white, which can be seen on broken part, but by frequent touching by hand after approximately three hundred years gives it a dark patina.
MEASUREMENTS: Overall length: 67.4 cm (26 4/8 inches).
Please note that this is not a common poor quality Kastane sword, such as most other Ceylonese swords, but is of museum quality with very fine work throughout and considered as a true work of art. Such high quality swords were worn among higher ranks of Sinhalese court officials as a status symbol as well as a fighting weapon. A similar sword to this one can be found on display in the museum.
REFERENCES:
1.Similar kastane sword dated to the 17th century is in the renowned collection of Robert Hales and published in the book Islamic and Oriental Arms and Armour: A Lifetime's Passion by Robert Hales. Page. 181.Fig.430. Which, also, can be viewed on line, please see the link below.
http://cdn.shopify.com/s/files/1/0259/0409/products/roberthales-PageSamples-0001_1024x1024.jpg?v=1379660241
2. Ancient swords, daggers and knives in Sri Lankan museums by P.H.D.H. De Silva and Senarath Wickramasinghe.
3.CONTRIBUTION A L'ETUDE DES ARMES ORIENTALES INDE ET ARCHIPEL MALAIS – Tome Second by P. Holstein
3. Visions of an Island: Rare works from Sri Lanka in the Christopher Ondaatje Collection, Harper Collins.
4. A Glossary of the Construction, Decoration and Use of Arms and Armor by George Cameron Stone.
A similar SINHALESE SWORD (KASTANE) is published in the Christie's catalog Islamic & Indian Works of Art & Textiles. Sale 4914. London, South Kensington; 27 April 2012. lot 521. Estimate price of £800 - £1,200.($1,294 - $1,942), and was sold for £2,375.($3,838). The
Please see the links below:
http://www.christies.com/lotfinder/arms-armor/a-sinhalese-sword-sri-lanka-18th-century-5552712-details.aspx
Buyer will be provided with copies of the pages from the mentioned references along with a certificate of authenticity.