SOLD Antique American Masonic Knights Templar Lodge Sword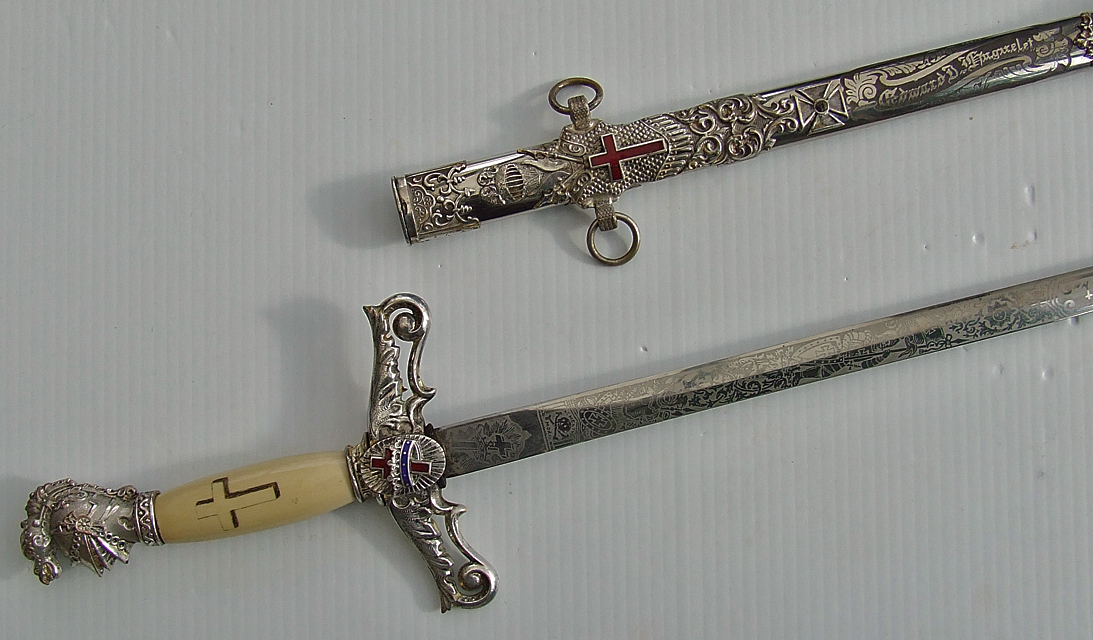 SOLD Authentic Antique, superb quality American Masonic Knights Templar York Rites Masonic Lodge sword. An elaborate hilt with a silver plated helmet pommel, surmounted by a perched dragon, a highly decorated cross-guard adorned on the center with an Ancient Cross in Crown in red and blue enamel, with the original antique scrimshaw cold white handle, engraved with the Cypher, and a Knights Templar Cross on the reverse side.
A straight double edged blade etched at the forte with the sword maker M.C. Lilley & Co Columbus Ohio. The M.C Lilley Co. was founded in the mid 1860. The marking was used between 1882 & 1925. The blade id etched with scenes depicts the Knights of Templers jousting the Saracens in the Holy Land, flanked by Saracen castle and Templers tents on the right, a standing Templar Knight in armour holding a banner, panels of martial trophies, and the mounted knight in the gate of Jerusalem. The other side of the blade is etched on the center with the owner's name Edward.J. Huguelet flanked by Compass & Square, Ancient Cross in Crown and the Maltese Cross, the lower part etched with a standing Templar Knight in armour holding a banner, martial trophies, The symbol of the Skull and Crossbones within the motto "MEMENTO MORI" and the Cross in Crown on the forte.
A nickel plated steel scabbard elaborately etched with the owner's name with three superb qualities, embossed and silver plated mounting decorated with red enameled Knights Templar Cross, and Cross in Crown. The sword comes with its original tooled leather case with the owner's name.

MEASUREMENTS:
Overall length with the scabbard: 91 cm (30.32 inches).
Overall length without scabbard: 89.3cm (29.92 inches).

CONDITION: In good condition considering its age (showing its age and usage), with slightly pitted spots on the blade and scabbard which can be aspect from an antique sword.