SOLD Antique 15th century Medieval German Dagger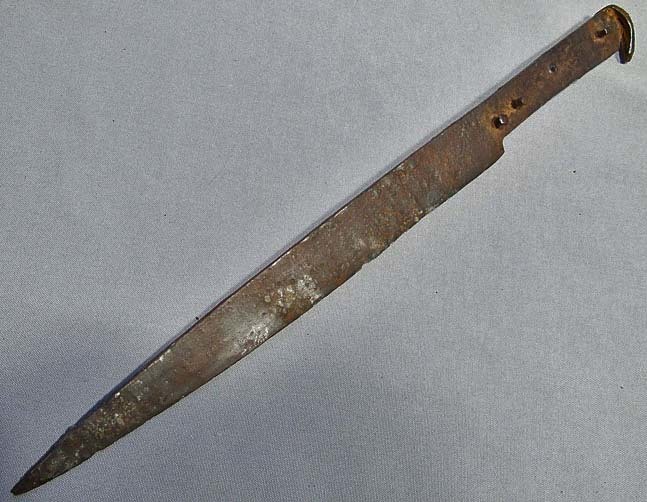 SOLD Authentic Antique, Medieval 15th century (1450.A.D -1500.A.D.), Swiss or Southern German Knife – Dagger.
Details: A tapering single-edged blade of triangular section, an iron hilt with tang retaining three rivets for attaching the grip, a slightly curved, almond shaped pommel.

CONDITION: In its original untouched condition, showing the age and usage, with old brownish rust, lacking of wood grip scales. However, for an approximately over 500 years old dagger it is considered to be in good condition, since the related daggers in the

Landesmuseum, Zurich (Swiss National Museum) and the daggers from the Museum für Deutsche Geschichte (Museum for German History) published in Europäische Hieb-Und Stichwaffen, are heavily corroded.










MEASUREMENTS: Overall length: 38.2 cm (15 1/8 inches).










REFERENCES:
1.Europäische Hieb-Und Stichwaffen by Heinrich Müller und Hartmut Kölling. Page.233
2.

Arms and Armour of Knights and Landsknechts in the Netherlands Army Museum,

by Jan Piet Puype, Harm Steven. Page.174.No46.
3A number of daggers of similar form

are preserved in the Landesmuseum, Zurich (Swiss National Museum).

See H. Schneider & K

.

Stüber 1980

,

nos 594-602

. Please see the pictures attached to the listing.


Buyer will be provided with copies of the pages from the mentioned references along with a certificate of authenticity.