SOLD Antique Native American Indian Beaded Bag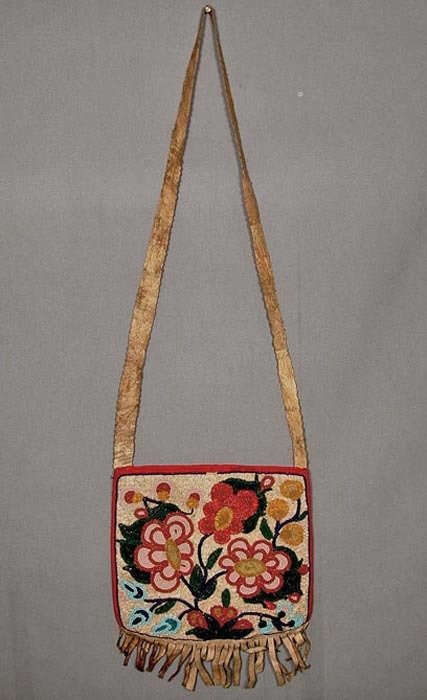 SOLD Authentic antique late 19th century North American Indian beaded with glass beads
hide shoulder bag of rectangular form from the Great Lakes area.
Constructed of very finely tanned hide and beaded with classical floral
designs in rose, pink, light blue, green, navy-blue and two shades of
yellow glass beads, on a translucent beaded ground trimmed by red cloth.
CONDITION:

In good condition with a beautiful old deep patina showing the age and
usage. The hide strap and the hide on back the bag with fringes are
very dry.

MEASUREMENTS

Overall length with the strap: 76 cm (29.92 inches)

Dimensions of the Bag including fringes: 27 cm x 22.5 cm (10.63 inches x 8.86 inches)

REFERENCES:

1) North American Indian Jewelry and Adornment: From Prehistory to the Present by Lois Sherr Dubin

2) North American Indian Artifacts by Russell E. Lewis