SOLD Antique 17th - 19th Century Tibetan Multiplated Helmet Of 30 Plates Tibet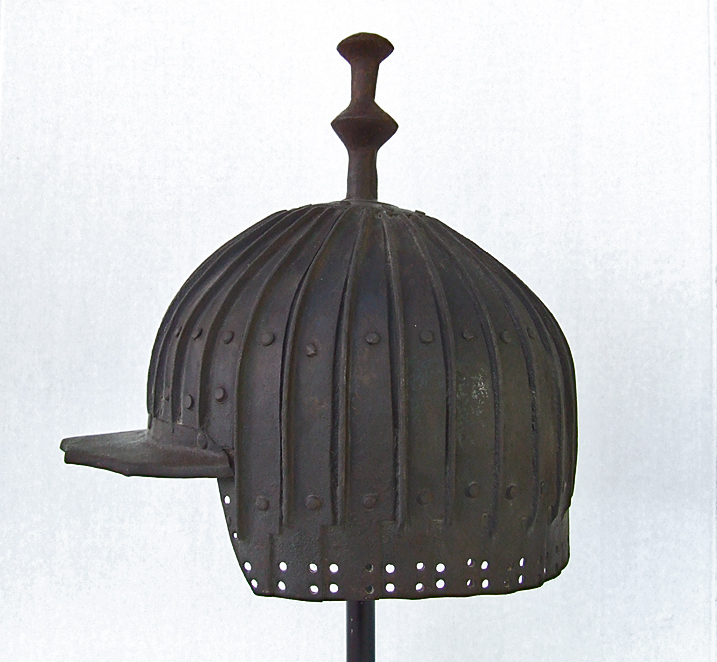 SOLD Antique, 17th - 19th century, Tibetan Multiplated Helmet of Thirty Lames.

The skull of domed construction, formed of thirty overlapping elongated,
hand forged, thick iron lames tapering towards a tall apex. Each lame
secured by three iron rivets encircling the median of the skull, and its
outer face, each lame formed with a full-length narrow medial ridge.

The apex of the skull capped by a slightly convex iron disc and fitted
with a tall tubular iron plume-holder, formed in two stages with
compressed circular mouldings at the top and the middle. The base of the
skull pierced with a series of holes for securing the neck-guard and
fitted at the front with a separate riveted peek with down-turned cusped
edge. The helmet is extremely well made, and in fact, is a masterpiece
of the blacksmith's armorer work. The interior of the helmet has visible
hammer marks, but the exterior is perfectly smooth with remains of its
blackened finish on the surface.

The construction of the helmet, formed of overlapping narrow iron lames
with medial ridge on each lame, is like the construction of Japanese
samurai multiplate helmets, Suji bachi kabuto. Most of the Tibetan
helmets are made only from several plates with non-medial ridges. So, it
is possible that the Tibetan armorer who made this helmet was inspired
by Japanese samurai Suji bachi kabuto.

MEASUREMENTS:

Height: From the top of the plume-holder to the base of the skull: 25 cm (9.84 inches).

Diameter of the interior: 20 cm x 19 cm (7.87 inches' x 7.48 inches).

Overall length from the tip of peek to the back of the skull: 26.5 cm (10.43 inches).

WEIGHT: 2.041 kg (4.5 pounds).

CONDITION: Overall exceptional condition for the age and history. Some
rust patination overall of the exterior, the entire interior of the
helmet corroded, absence of the neck-guard.

For similar Tibetan Helmet in Chinese Museum please see the last picture attached to the listing.