SOLD A pair of Very Rare Antique Kesi silk with gold Chinese Qing Dynasty First Rank badges Military Officials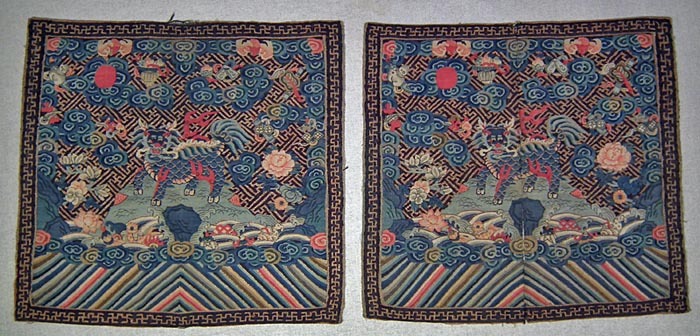 SOLD A pair of Very Rare Antique 19th century Chinese Qing Dynasty first rank badges of military officials (also called mandarin square) finely woven Kesi silk with gold thread depicting a First military rank symbol a Qilin standing on a rock within a celestial landscape setting with clouds, sun disk, waves with the eight precious Buddhist emblems (bajixiang), bats and li-shui pattern, flanked by rocks with peonies and narcissus against a gold swastika – fret pattern. All patterned in multicolored silk in shades of blue, black, red, pink, pale coral and gold thread .Bordered with gold swastika meander pattern against black ground.
A similar pair of badges however not as fine and colorful as our badges and woven nod with gold but with silver thread ware sold for £2,375 ($3,795) by Christie's "Chinese Ceramics & Works of Art Costume Textiles & Fans". London, South Kensington; 9 November 2012.
Also a similar in stale Pair of Kesi badges but a Sixth civil rank was sold for $4,375 by Christie's The Imperial Wardrobe: Fine Chinese Costume and Textiles from the Linda Wrigglesworth Collection New York, 19 March 2008
Please see the links below:
http://www.christies.com/lotfinder/textiles-costume/a-pair-of-very-rare-kesi-qilin-5624157-details.aspx
http://www.christies.com/lotfinder/textiles-costume/a-pair-of-kesi-civil-officials-rank-5048748-details.aspx
REFERENCES:
1) Ruling from the Dragon Throne: Costume of the Qing Dynasty 1644-1911 by John E. Vollmer.
2) Imperial wardrobe by Gary Dickinson, Linda Wrigglesworth.
3) Imperial Silks: Ch'ing Dynasty Textiles in The Minneapolis Institute of Arts by Robert D. Jacobsen.
4)"Silks for Thrones and Altars" by Myrna Myers.
5) "In The Presence Of The Dragon Throne" by John E. Vollmer.
6) Chinese Dress: From the Qing Dynasty to the Present by Valery Garrett.
These badges came from an old Canadian collection of Oriental Art, with other textiles, ceramic, jades and Chinese antiques, which we are in the process of photographing and placing for sale for the first time.
Due to the fact that the market is flooded by reproductions of Chinese antiques, which for inexperienced collectors look the same as the authentic objects, we would like to inform our clients that this is a 100% authentic, over 100 years old, Chinese Qing Dynasty antique and not a reproduction, and is accompanied by a Certificate of Authenticity.
DIMENSIONS: Approximately, 30.5 cm (12 in) by 28.5 cm (11 1/4 in).
CONDITION: The badges are in good condition considering their age, and the material from which they are made, showing the age and usage with slightly worn edges. The blue silk lining sewn to the back has some discoloration with faded areas and stain marks. There are no holes or applied patches.
One badge is woven in one single piece which was placed on the back of the robe. The other badge is made from two separately woven panels which were placed on the front of the robe (The same as the badges in Christie's and Museums) .The two parts are not sewn together.
Please note that this antique textile is over 100 years old, and was well used, so a perfect condition cannot be expected.