SOLD Turkish Ottoman Bronze incense-burner Polycandelon 16th century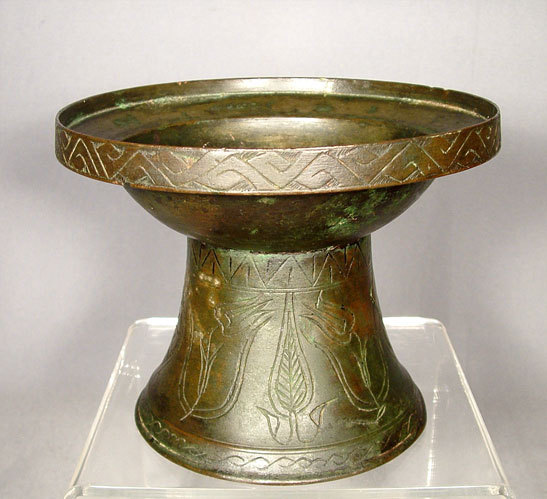 SOLD Antique Turkish Ottoman incense-burner/ Polycandelon 16th -17th century . DETAIL: made of cast and wheel turned bronze, shallow bowl with the rim engraved with a two interlacing zig-zag bands, mounted on splayed conical base chisel with tulips, medallions and Cyprus trees.
MEASUEMENTS: Height: 12,5 cm (4 7/8 in). Width: 16cm (6 ¼ inches).
CONDITION: in good condition with a beautiful green patina except for a minor crack in the base.
REFERENCES: "Tulips, Arabesques & Turbans: Decorative Arts from the Ottoman Empire" edited by Petsopoulos.