SOLD Antique Hispano-Moresque lusterware Ceramic Bowl 17th century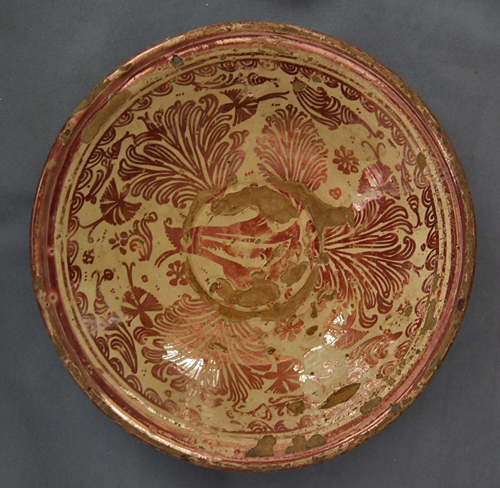 SOLD Authentic Antique 17th century large Hispano-Moresque lusterware conical ceramic bowl, with deeply sloping sides, with a banded rim decorated with Tree of Life and the Palm Motifs on it, within a border of concentric bands, and scroll-pattern.
CONDITION: In its original good condition with nice patina and good signs of age and usage, some minor age chipping and flaking, as common in 300 years old ceramic, no cracks, repairs, or restorations.
MEASUREMENTS: Diameter: 29.3 cm (11 1/2 inches). Height: 7 cm (2 3/4 inches).
Hispano - Moresque pottery, as its name indicates, was made in Spain by Moorish potters. Its origin can be traced back to the 9th century, when Near Eastern potters, probably from Iraq, set up their kilns in Tunisia in order to produce luster-painted tiles for the decoration of the prayer-niche of the Great Mosque of Kairouan and the Fatimid palace at Raqqada. Later on these potters moved to a placed called Qal'a Banu Hammad, in present day Algeria, then eventually to the Islamic Moorish Spain.
By the 13th century luster-painted pottery were made chiefly at Malaga by Moorish Muslim artists. The history of luster-painted pottery in Spain may be divided into two major periods: the first one before the Reconquista, and the second after the Reconquista, when at the end of the 15th century, Muslims were deported to North Africa. Nevertheless a lot of Muslims became Christians, and therefore they were allowed to stay in Spain and continue to make pottery in the Islamic style.
To see an identical Plate in the Museum collection please Click on link below to view.
http://bigera5.weebly.com/the-hispano-moresque-wares

Click on link the below to view information on the Hispano-Moresque ware by encyclopedia Britannica.
http://www.britannica.com/art/Hispano-Moresque-ware

Most of the Hispano-Moresque ware on the market are 19th-20th century reproductions, which, for inexperienced collectors, look the same as the authentic antique 15th-18th century Hispano-Moresque ware. We would like to inform our clients that this is a 100% authentic antique 17th century Hispano-Moresque bowl.