SOLD Antique Austro Hungarian Gilt Silver Jewish Betrothal Bridal Marriage Belt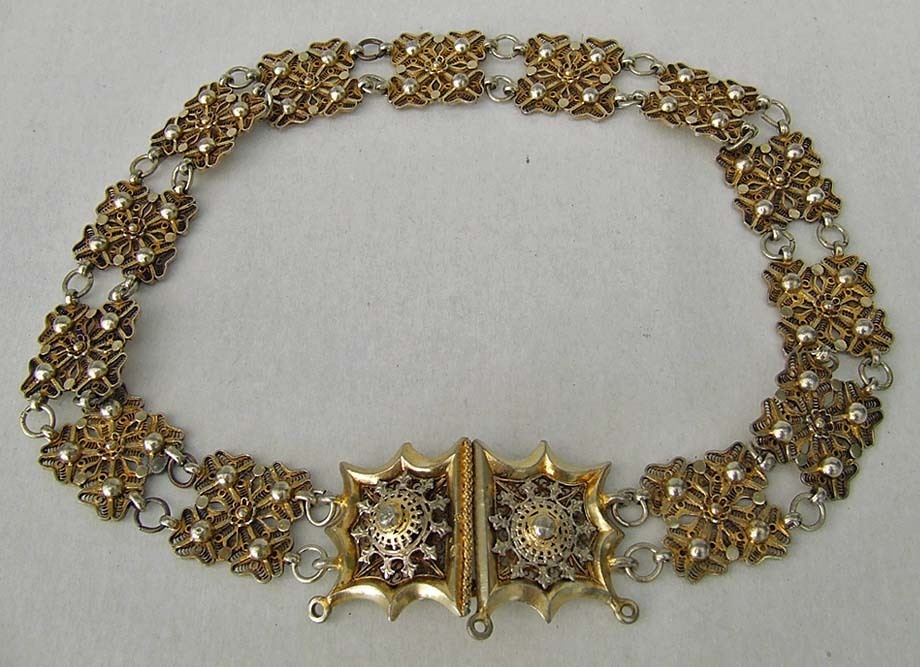 SOLD A splendid antique 19th century Austro Hungarian gold gilt solid silver filigree Jewish Betrothal Bridal, marriage belt, formed of thirteen panels, each made of elaborate filigree design, decorated with rosettes and pearl-shaped knobs and joined by rings. The hinged buckle is formed of two segments with cast and chiselled frame with filigree interior and adorned on the center with the rosettes finished in open work and the rope work on the center fitted on the back with a hook and the loop closure. The buckle is applied with two loops used to connect this belt to the groom's belt.

The size of the belt is small since in previous centuries Jewish girls had married in very young age.

Amongst German Jews in previous centuries, the prospective bride and groom were given matching silver chain belts at their betrothal. During the subsequent marriage service, these belts would be linked together to signify the permanent bond between the couple.

Please see the link below:
http://www.woodsideparksynagogue.org.uk/weddings

The belt is hallmarked on the frame of two parts of the buckle with Diana's head with the crescent Moon above her head and the small rectangular silversmith mark with initials "BI": attributed to Birkner, Israel, a Viennese silversmith active until 1905. The hook and loop closure has a very small square mark with "BI": and a small irregular mark with initials "MA" or "NA". Also the link rings are stamped with a very small illegible marks.

CONDITION: In very good condition considering its age; one of the panels has old soldering on the back.

MEASUREMENTS


Overall length: 65 cm (25.59 inches)
Dimensions of the buckle 7 cm x 4.7 cm (2.76 inches x 1.85 inches)
Dimensions of each panel 4 cm x 3.8cm (1.85 inches x 1.5 inches)

WEIGHT: 216 grams (7.62 ounces).