SOLD RARE Polish Army Bayonet wz.29 by F.B. RADOM for a Polish Mauser Rifle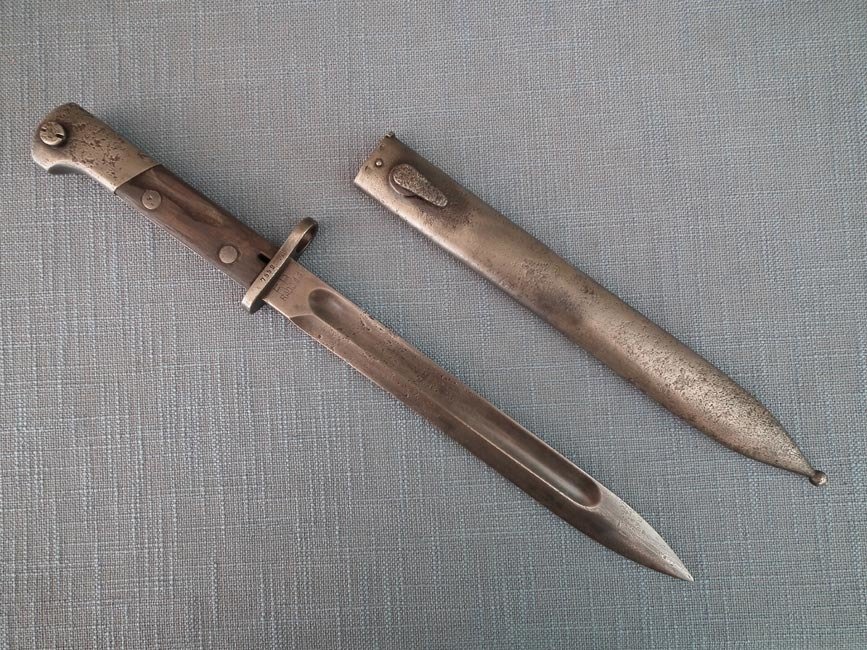 SOLD Polish Army bayonet wz.29 produced by F.B. RADOM (Arms Factory Radom) for a Polish Mauser rifle with very rare Marking. Radiating Sun on the pommel below mortise slot and the small Polish eagle on the mouth of the scabbard.

CONSTRUCTION/MATERIALS: Steel, wood.

MARKINGS: The bayonet has very clear maker and proof marks:

Right ricasso Polish eagle over W.P, (Wojsko Polskie = Polish Army)
Left ricasso F.B. RADOM; and military acceptance mark D2 in ellipse.
The serial number 7552 A on the cross guard.
Pommel stamped with Radiating Sun below mortise slot
Mouth of the scabbard stamped on outer site with rare marking a small Polish eagle and acceptance mark circumscribed in an oval.

Dimensions:

Overall length of the bayonet in the scabbard: 40 cm (15.75 inches)
Overall Length without the scabbard: 38.2 cm (15.4 inches)
Blade Length: 25 cm (9.84 inches)

CONDITION: in good condition considering its age. The release button works fine; scabbard and iron parts of the hilt slightly pitted.

We were fortunate to acquire this bayonet together with other Polish antiques, including antique Polish arms and armour from an old Canadian collection.