SOLD Antique Ukrainian Polish Russian Icon The Pochayiv Mother Of God Matka Boska Poczajowska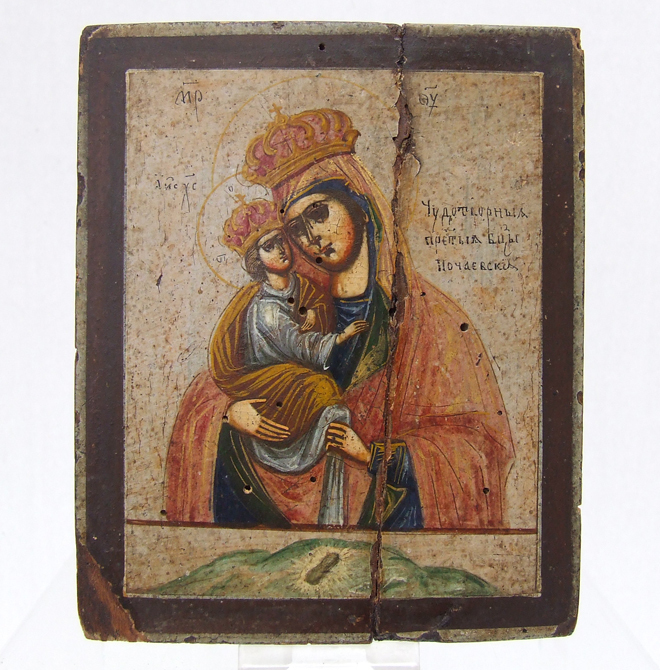 SOLD Authentic antique, 19th century, Ukrainian – Polish icon, The Pochayiv Mother of God" Почаївська ікона Пресвятої Богородиці ". "Matka Boska Poczajowska" "Чудотворна ікона Почаївської Божої Матері"" Почаївська Ікона Божої Матері"

The Pochayiv Mother of God icon is venerated equally by Ukrainian orthodox, Ukrainian Greek Catholic (Greco-Catholic), Ukrainian orthodox, and Polish Roman Catholic.

The Icon is finely hand painted with egg tempera with gold highlights on a gessoed wood panel depicting The Crowned Virgin Mary with Christ as a child flanked by the Cyrillic script with the impression of Mary's right foot in the rock below.

Icons of The Pochayiv Mother of God are extremely rare compared to the other icons.

After the fall of the Polish November Uprising of 1830-31 the Russian tsarist government seized Pochayiv monastery in 1833 because of the involvement of the Basilian monks in support of the November Uprising. The Basilian monks were removed from the monastery, and the monastery was handed over to the Russian Orthodox Church and passed to the Orthodox monks brought from Russia, Greco-Catholics were forced to the acceptance of the Russian Orthodox Church. The monastery is to this day in the jurisdiction of the Ukrainian Orthodox Church of Moscow Patriarchate. However, Basilian monks hid the original "icon and probably passed it to the Polish noble and aristocratic family Tarnowski, the owners of Pochayiv, its fate is unknown.
CONDITION: In its original condition with an old patina. Showing its age to be over 150 years, with some age and wear overall, flakes and an old vertical crack in the panel.

DIMENSIONS
13.3 cm x 10.8 cm (5.24 inches x 4.25 inches)

For additional information on The Pochayiv Mother of God please view the links below:

Ukrainian sites:

https://uk.wikipedia.org/wiki/%D0%9F%D0%BE%D1%87%D0%B0%D1%97%D0%B2%D1%81%D1%8C%D0%BA%D0%B0_%D1%96%D0%BA%D0%BE%D0%BD%D0%B0_%D0%91%D0%BE%D0%B6%D0%BE%D1%97_%D0%9C%D0%B0%D1%82%D0%B5%D1%80%D1%96

http://www.cerkva.info/uk/publications/articles/7206-pochaivska-ikona-bojoi-materi.html

http://www.smk-sobor.org.ua/uk/library/ouradvice/842-5-serpnya-den-shanuvannya-pochaivskoi-ikony-bozhoi-materi.html

http://iconbm.ru/index.php?option=com_joomgallery&func=viewcategory&catid=47&Itemid=3

https://en.wikipedia.org/wiki/Theotokos_of_Pochayiv

https://en.wikipedia.org/wiki/Pochayiv_Lavra

Links to the Polish Sites:

http://medaliki.king22.pl/?p=491

https://pl.wikipedia.org/wiki/Poczajowska_Ikona_Matki_Bo%C5%BCej

http://www.wilanow-palac.pl/matka_boska_poczajowska.html

http://rzecz-pospolita.com/sanktuaria/wolyn/poczajow-s.php3