SOLD Antique Spanish 18th Century Sword Rapier Bilbo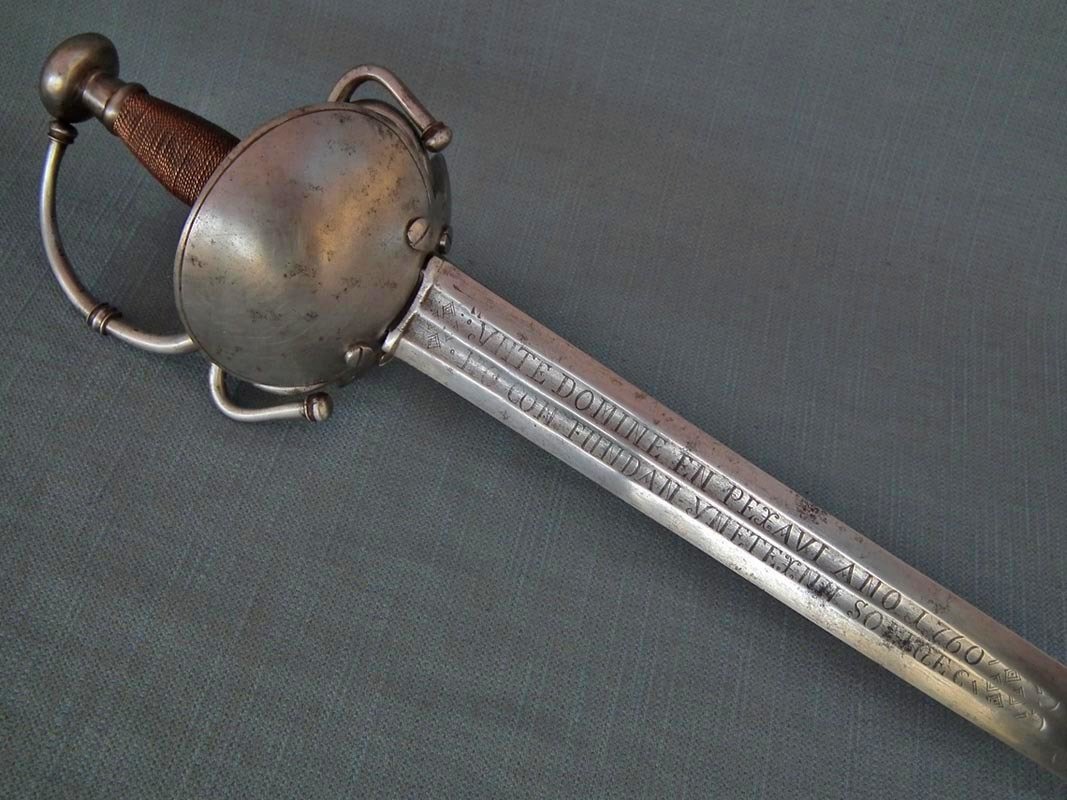 SOLD A superb quality Antique, Spanish, 18th century, huge sword Rapier, Bilbo model of 1728. Details: Broad tapering blade of flattened - hexagonal cross-section cut with two short fullers on each face, engraved on the respective faces; "VNTE DOMINE EN PEXAVI ANO 1760 NO CON FUNDAN VNETEX NU SOLIGE". The ricasso struck one the booth sides with the Toledo sword -maker mark. Steel hilt with asymmetrical upturned bilobate shell guard, screwed to the guardopolvo, which is integral with the large pas d'ane; including a pair of downcurved qullons with turned finials; knuckle bow stopping short of the bun-shaped pommel; the wooden grip bound with twisted copper wire with ferrules top and bottom.

The Bilbo term, was an old name for a cup-hilt rapier sword, in use around in the 16th -18th century. The name comes from the Basque city of Bilbao, where a significant number of them were exported to the New World. These swords were also sold to arms merchants of the most European country, including England.

The Bilbo Sword was a favorite weapon of Spanish soldiers and sailors in the New World and the pirates of Caribbean during the 18th century and also wildly used by the American cavalry during the revolutionary wars.

REFERENCES:
1.ESPADAS ESPAÑOLAS MILITARES Y CIVILES desde el siglo XVI al XX by Vicente Toledo Momparle. Pages: 98-103.

2.Spanish Military Weapons in Colonial America, 1700-1821 by Sidney B. Brinckerhoff; Pierce A. Chamberlain.Pages:79-82

3.Battle Weapons of the American Revolution by George C. Neumann. Page. 348. No.135. SS.

4.Swords and Blades of the American Revolution by George C. Neumann. Page 160. No.296.S

Measurements:
Overall length :106 cm (41.73 inches)
Length of the blade: 90 cm (35.43 inches)
Width of blade at widest point: 3.8 cm (1.5 inches)

CONDITION: This sword is in good original condition considering its age to be over 257 years, showing its age and usage.