SOLD Antique Polish Sword Sabre 18th Century Poland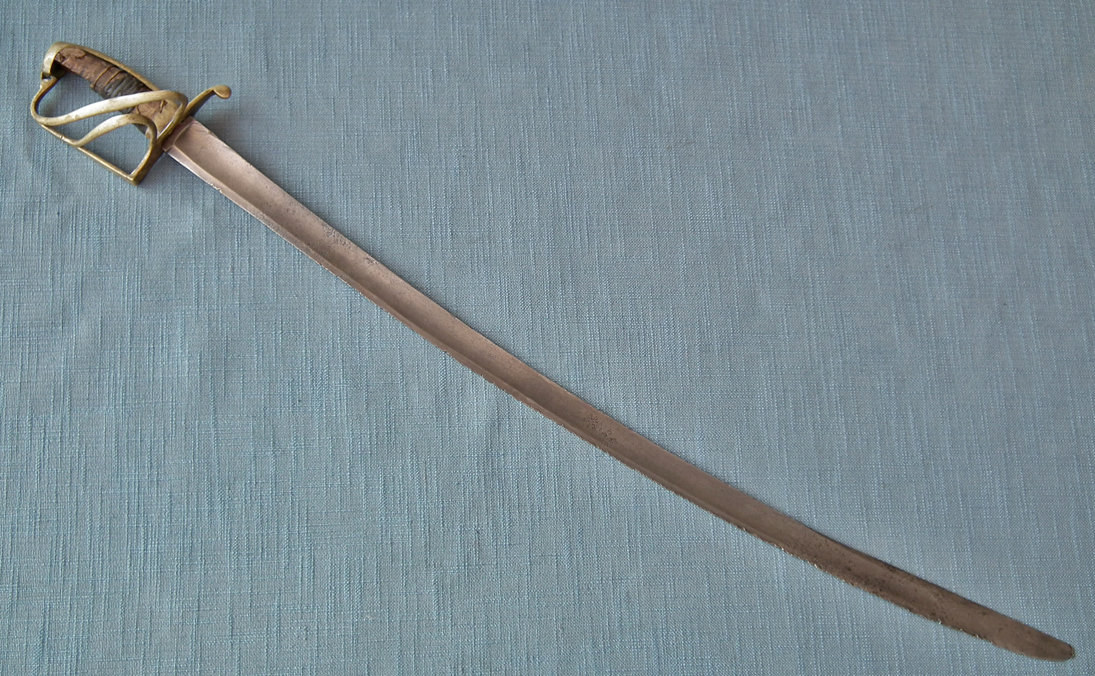 SOLD Rare, Antique Polish cavalry sword from the second half of the 18th century.
Details: A plain brass stirrup hilt with two side bars and wooden grip, with remains of its original, leather bound. A slightly curved single edged steel blade cut with shallow fuller.
A Polish sword of similar form in the collection of the Museum of the Polish Army in Warsaw (Muzeum Wojska Polskiego w Warszawi) is published in the book "Bron Wodzow i Zolnierzy" by Zdzislaw Zygulski, Page 78, which is described as an 18th century Polish sword made by the Marymont manufacture in Poland (Please see the picture of the page attached to the listing). Another example from the Muzeum Narodowe in Krakow is published in the book Ciecia prawdziwa szabla by Wojciech Zablocki Page 188. We will also provide the buyer with photocopies of the pages from the mentioned references together with a certificate of authenticity.

Condition: Showing the age and heavy usage, the blade is bent and pitted, particularly in lower part, with many nicks on the edge, the wooden grip damaged, leather which covers the wooden hilt remains only in 40 %, the brass bars hilt bent, almost certainly from combat. However, this is a very rare sword and hardly can be seen for sale. All of this is an aspect from a used antique combat sword that is over 220 years old. Please see the photos as they are a part of the description.

MEASUREMENTS:

Overall length: 91 cm (35.83 inches).
Overall length of the blade: 79 cm (31.1 inches).
Antique 17th-18th century Polish arms and armour were always considered as the scarcest antique military objects rarely appearing for sale in Sotheby's or Christie's and are almost impossible to acquire.
Unfortunately, with a big demand in collecting authentic, historical 17th-18th century Polish heritage arms and armour including swords, maces, war hammers, helmets, armour, etc, have appeared on the market in the last 10 years as reproductions of historical Polish arms and armour made by artisans in the USA, Poland, and neighboring Eastern European countries. These items, in many cases, are very well made and professionally aged, corroded, and damaged, to look old and as true antiques which for inexperienced collectors look the same as authentic artifacts.

These reproductions do not have any historical or investment value. This is an example of a rare authentic antique 18th century Polish sword and is accompanied by a certificate of authenticity.

We were fortunate to acquire this sword with other Polish antiques, including antique Polish arms and armour from an old Canadian collection formed prior to the time when these specific practices started. This is an example of a rare authentic antique 18th century Polish sword, and is accompanied by a certificate of authenticity.