SOLD Antique Medieval Indian Sculpture 11th century India Hindu or Jain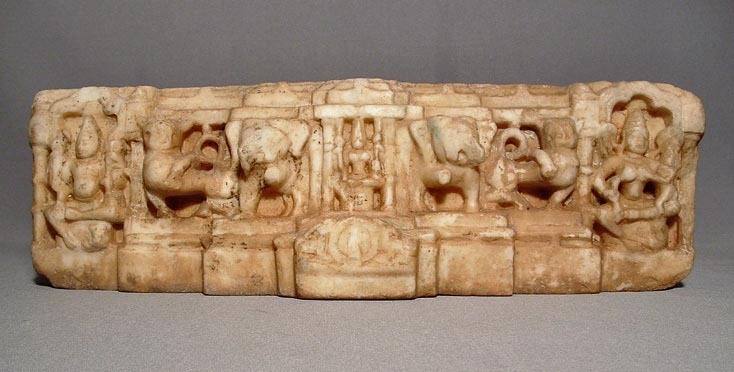 SOLD Authentic Antique Medieval Indian 11th – 12th century religious relief carved from white marble depicting three Indian deities seated on a throne in Latisana in arched niches flanked by attendant's elephants and lions.
CONDITION: With a lovely old beige yellow tone patina and sign of usage. There are some chips on the surface of the figures and remains of old paint and cement, as in the time of the Muslim conquest of India many shrines and temples were destroyed and the elements were used as building materials.
MEASUREMENTS: Length: 46.5 cm (18 /4 in). Height: 15.2 cm (6 in) and weighs approximately 26 pounds.
Due to the fact that the market is flooded by reproductions of Indian antiques which for inexperienced collectors look the same, we would like to inform our clients that this is a 100% authentic antique Medieval Indian 11th – 12th century religious relief and not a reproduction, and is accompanied by a Certificate of Authenticity.
For the purpose of examination of the proof of authenticity, as a natural patina and remains of old construction substance, the item was photographed in two different light settings, in daylight and artificial light.