SOLD Antique Islamic Indo-Persian Tinned Copper Helmet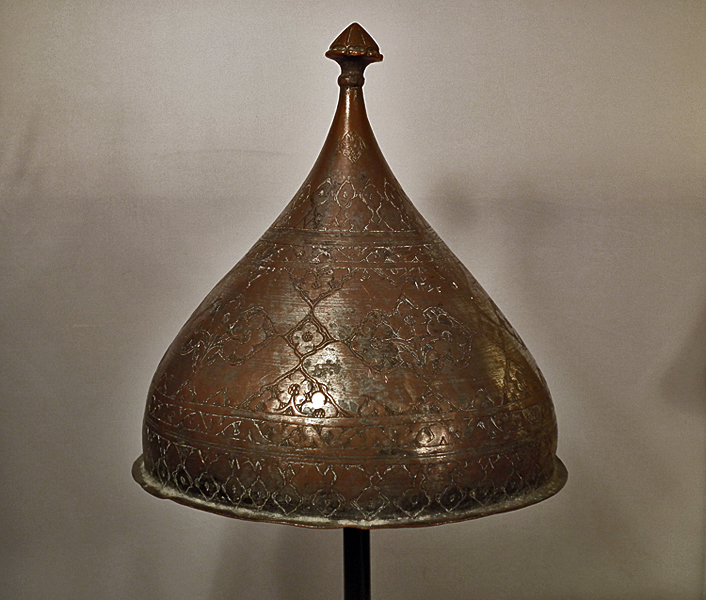 SOLD Antique, Islamic, Indo-Persian (most likely from Caucasus) tinned copper helmet, of near conical form, rising to a pointed finial, and outwardly flanged to a narrow brim at the base, decorated over its surface with a broad band of scrolling flowers and foliage, the front top engraved in Arabic with the date 1262 Hijri and three names Ibrahim, Salah, Halil. It is quite possible that this script is a later addition and the helmet, in fact, is much older and was made prior to the date 1262 Hijri (1845-1846.A.D). Helmet is hand forged from a single piece of thick solid copper with visible hammer marks in the interior, but with a perfectly smooth surface on the exterior.
A similar in form, tined copper helmet, but with nose guard and mail neck guard, is published in Bonhams catalog "The Jacques Desenfans Collection" 10 Apr, 2008, lot 170. Sold for £2,160.
Please see the link below.
https://www.bonhams.com/auctions/16444/lot/170/
The buyer will be provided with a copy of the page from the mentioned reference, together with a certificate of authenticity.
CONDITION: In its original untouched condition, showing the age and heavy usage, small, irregular, narrow hole in the upper part.
MEASUREMENTS: Height: 24 cm (9 1/2 in).Diameter: 23.3 cm (9 1/8 in).
WEIGHT: 1.002 Kilogram = 2.20903 Pound.