SOLD Antique Islamic Indian Muslim Mughal Sword SUKHEL- Khanda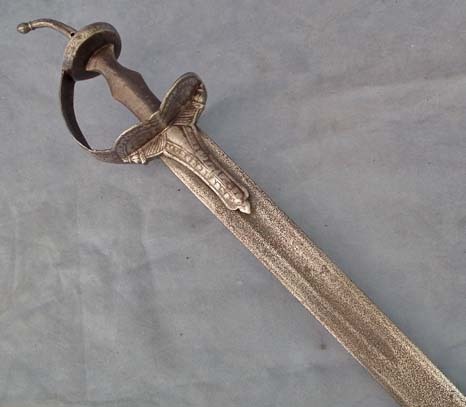 SOLD A rare antique 17th century Indian - Mughal combat sword "SUKHELA". A long broad double – edged blade with a short central fuller, the blade is of European origin, most likely 16th century. A massive steel basket hilt of Khanda form, including a pair of long langets, with a pair of short quillons, and a shaped guard extending to form the knuckle, with an oval pommel with a slender shaped spike finial.
REFERENCES: "THE INDIAN SWORD" by P.S. Rawson, "ARMS AND ARMOUR TRADITIONAL WEAPONS OF INDIA" by E. Jawant Poul.
MEASUREMENTS: Overall length: 112 cm (44 1/8 in), length of the blade: 95 cm (37 3/8 in).
CONDITION: Pitting to the blade and the steel hilt, which can be expected from an over 300 year old sword.
Due to a 100 cm maximum limit for the length of a parcel shipped by Canada Post to some countries, we are able to send only via courier. In attempting to make a purchase, please provide us with a shipping address, and we will provide the shipping cost.