SOLD Antique Islamic Helmet Indo Persian Kulah Khud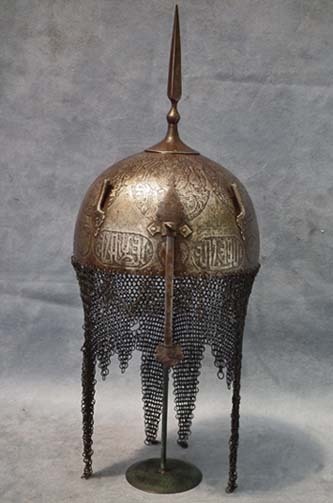 SOLD Authentic antique 18th -19th century Islamic Indo Persian nobleman helmet Kulah-Khud. A hemi-spherical skull formed of one hand forged steel plate, with a stout mounted long spike at the top, a pair of plume-holders, a movable guard nasal flanked by two plume holders, retaining its original neck-defence camail of chain mail of rounded links. The skull is beautifully decorated over its entire surface with six oval medallions containing figures in Persian costumes. over its entire surface human figures in Persian costumes. The edge of the helmet is adorned by a broad band of six cartouches containing script in Arabic calligraphy and heightened in Gold koftgari..
MEASUREMENTS: Height from the top of the spike to the bottom of the mail: 51 cm (20 inches), Diameter: 19.4 cm (7 5/8 in).
Due to the fact that the market is flooded by reproductions of Indo Persian Arms and Armour, including helmets, which for inexperienced collectors look the same, we would like to inform our clients that this is a 100% authentic antique object, and is accompanied by a Certificate of Authenticity.