SOLD Antique Islamic Caucasian Circassian Russian Cossacks Saddle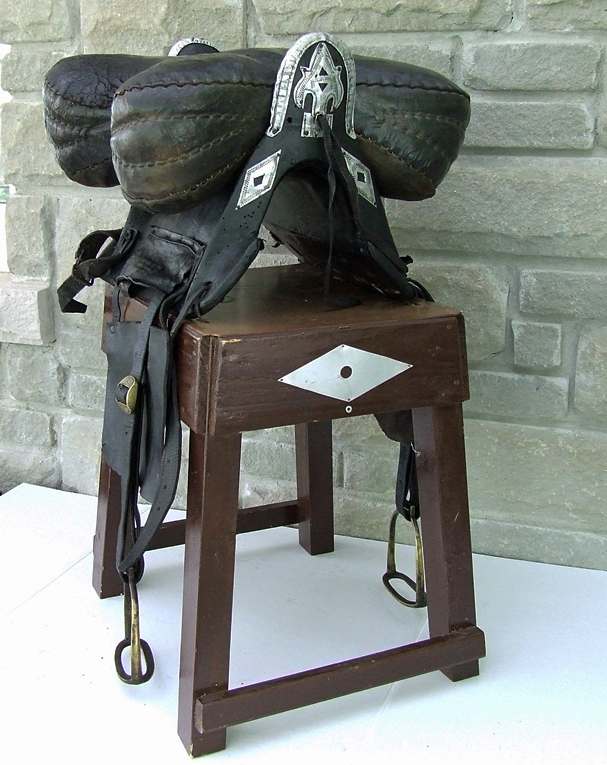 SOLD Antique, 19th century, Islamic Caucasian Circassian horse saddle.
A wooden frame cantle extending over to the rear and projecting to the frontal high arch pommel, covered overall in leather, decorated on the front and back with elaborate white metal mounts. With its original leather pillow stuffed with mountain goat's hair and brass stirrups. The Circassian saddle is unique in its construction and very light compared to the other saddles by its construction and is giving the rider comfort and stability and also comfort to the horse, for these qualities Circassian saddles have been widely used by all nations of Caucasus, also by Kuban and Don Cossacks, and Ottoman Turks.



CONDITION: Signs of usage with some age wear overall, leather dried and cracked, with the age and use, some old repairs, old wood worm holes. All of this is an aspect from a used antique saddle that is over 100 years old. The stand which is on the picture is a prop and is not included with the saddle.



MEASUREMENTS: Approximately:
Overall length: 38.3 cm (15.08 inches).



REFERENCES:



1. Similar Circassian saddle is published in Christie's catalog "Arts of Islamic and Indian World "23 October 2007, lot 310. Which, also, can be viewed on line, please see the link below.



2. Weapons of the Caucasian nations by E. Astvacaturyan. Page 56.
3. Miller's Antique Price Guide. 2002" Page: 746, priced $5000-5800 (this price is from 14 years ago). We will provide the buyer with a copy of the pages from the mentioned references together with a certificate of authenticity. (Please see the picture attached to the listing).



Link to Christie's catalog: