SOLD Antique Indonesian Balinese Dagger Sword Keris Kris 15 luks Gold Gilded Bayu Hilt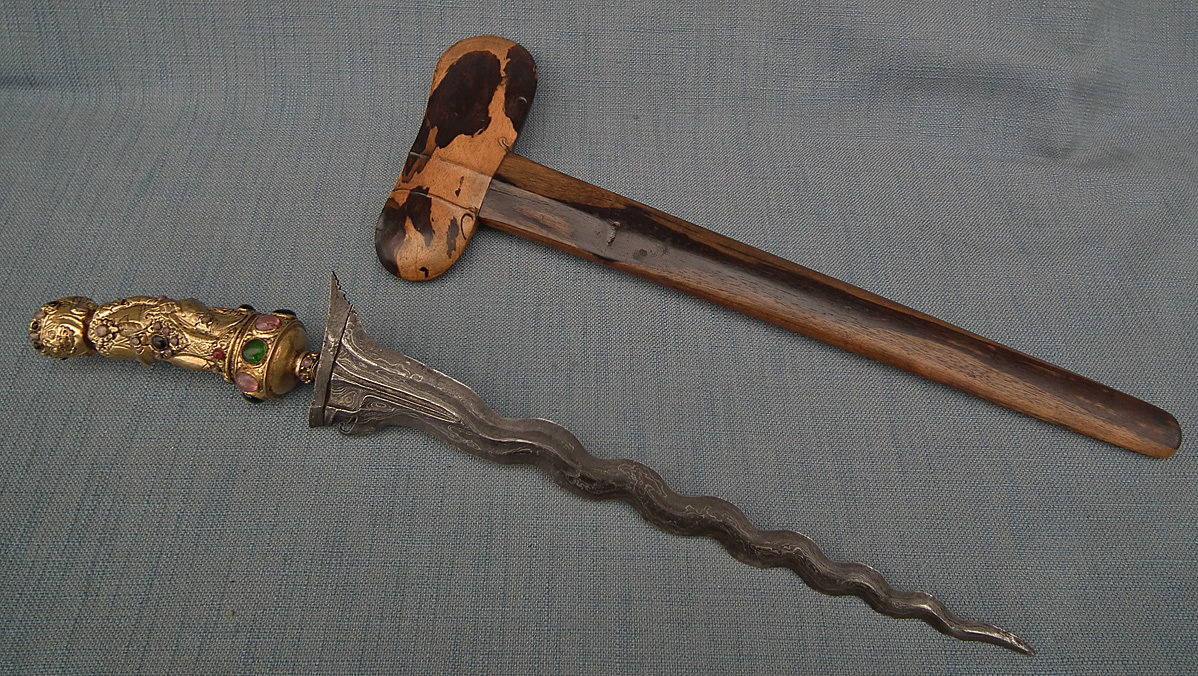 SOLD An outstanding Antique 19th century, Indonesian -Bali dagger -sword, keris, kris, with Balinese courtly-style figural hilt (hulu) depicts the god 'Bataru Bayu' sitting on a tumpal throne. He is the god of wealth and well-being (a variation of the Indian wind-god Vayu). The hilt is coated with, gold gilded brass, worked in repoussé and finely, chased and engraved. The clothing of the wealth-god, his sceptre, diadem, ear, hair- and arm-jewellery, and container of amrita, the elixir for eternal life holds in his right-hand, set with various colours cabochon beads, as is the Selut and Mendak.


An extremely well made serpentine -shaped blade, Ngulit semangka. with 15 luks ('waves') superbly hand wrought from pamor iron with fine Damascus pattern "Ngulit semangka".
The sheath including, Warangka and Gandar are made of Timoho wood (Kleinhovia Hospita) in former days this wood was even more valuable than silver or gold!
Since high-quality, Keris blades made of Pamor were very valuable and would not go out of fashion or style, were part of the pustaka or heirlooms of the aristocracy to be passed from generation to generation. They were considered to have magic and to imbue magic and power on their owners. So, the fine old blades, dating back I as far as the fifteenth century were still used during the 19th century but remounted with a new 19th century mountings. It was also practiced in Japan when the expensive old sword blades were remounted to a new mounting and were still used in 19th and 20th century.


CONDITION: In very good condition, showing the age and usage.
Please notice that the pictures in the listing are part of the description of the condition of the object


MEASUREMENTS
Overall length with the scabbard: 59 cm (23.23 inches)
Overall length without the scabbard: 50.5 cm (19 7/8 inches)


The word Pamor comes from the Javanese word "Wor" or "Awor" and it means "mixture" and refers to a pattern in the blade made by means of forging together layers of different metals, typically layered billets of steel and nickel alloys Many pamor motifs are found, each with its own meaning, magic and value.


REFERENCES
1.The Invincible Krises 2 by Vanna Ghiringhelli
2. Kris Gli Invincibili: Kris The Invincible [The invincible krises] by Vanna Ghiringhelli
3. Traditional Weapons of the Indonesian Archipelago by Albert G. van Zonneveld