SOLD Antique Indian Miniature Painting Interior Of The Taj Mahal 19th Century India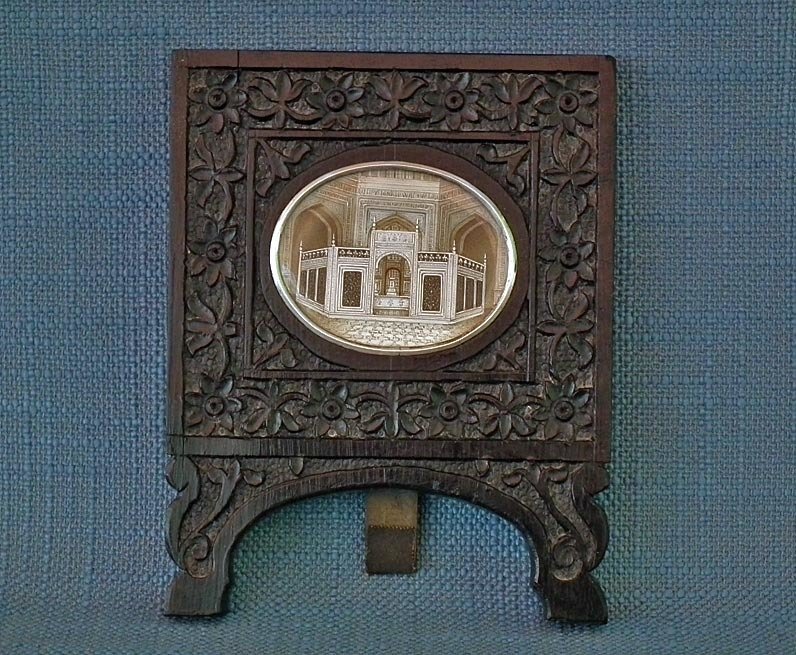 .
SOLD A good antique, late 19th century, of superb quality, finely hand painted, on organic wafer, Indian miniature painting depicting the Interior of the Taj Mahal with the screen around the tombs of Shah Jahan and Mumtaz. Set under glass in an oval silver frame mounted in beautifully carved solid ebony wood frame carved with floral decoration, standing on two ornate feet with an easel at the back to stand. The painting itself features the classic symmetrical view of the marble structure set behind its reflecting pool and the red wall of Agra on the left. While the foreground and sky are beautifully rendered, the building itself is truly outstanding with a fantastic amount of details.


MEASUREMENTS


Dimensions of the ebony frame: 12.4 cm x 9.5 cm (4.88 inches x 3.74 inches)
Dimensions of the oval silver inner frame: 5.2 cm x 4.2 cm (2.05 inches x 1.65 inches)


CONDITION: This original painting is in very good condition, with no restorations, or repairs.

The Taj Mahal was built as a mausoleum by Shah Jahan to the memory of his beloved wife after her death in 1631, had an enormous impact on all foreign visitors who admired, and continue to admire, its architectural perfection and romantic genesis.