SOLD Antique French Napoleonic Senior Light Cavalry Officer Sword Sabre Pattern ANXI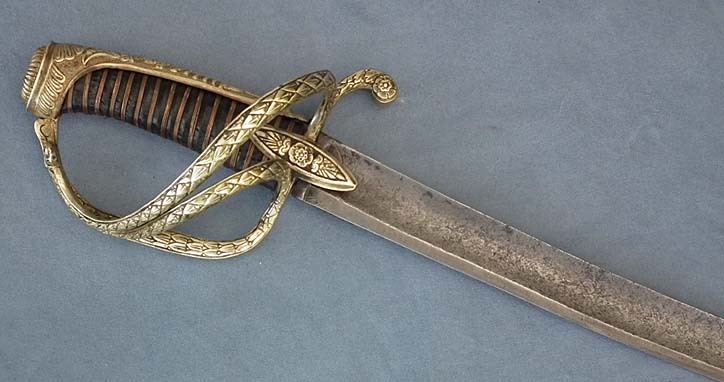 SOLD Antique early 19th century French Napoleonic Senior light cavalry officers sword, pattern ANXI, 1802-3. Brass triple-bar hilt with pair of elliptical langets, quillon, knuckle-guard, and the back-strap cast and chased in low relief with black grip bound by copper wire. A curved blade, double-edged towards the point, cut with a broad shallow fuller over the greater part of its length, the pitted blade retaining traces of engraved martial trophies.
CONDITION: Showing the age and usage, blade pitted and slightly bent, the brass knuckle-guard bent.
MEASUREMENTS: Overall length: 97.5 cm (38 3/8 in), length of the blade: 83.5 cm (32 7/8 in).
REFERENCES: Les Trésors de l'Empéri : L'armée de Napoléon, La collection Raoul et Jean Brunon by Vincent Bourgeot. Page 241. No4