SOLD Antique French Hussar French Revolution Napoleonic Wars Napoleon Cavalry Sabre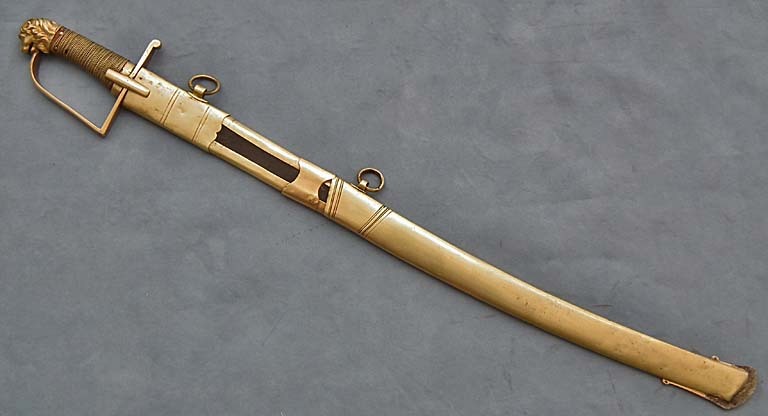 SOLD Antique, late 18th century, French hussar sword from the French revolution Period, 1789-1792, (but used throughout the Napoleonic Wars).
DETAILS: A plain brass stirrup hilt with a solid knuckle bow joined to the lion's head pommel, a pair of long langets, downcurved rear quillon, retaining its original wooden grip bound with twisted wire. A slightly curved single edged blade, cut with a broad full-length fuller and a slender fuller along the back-edge. In its original brass scabbard with two suspension rings, fitted with rectangular panels lined with black leather.
CONDITION: Showing the age and usage, the brass scabbard is with minor dents and old repair, blade corroded.
MEASUREMENTS: Overall length with the scabbard: 90.1cm (35 1/2 in), overall length without the scabbard: 88.5 cm (34 7/8 in)
This particular model of saber with lion's head pommel, with many variations, was used through the Revolutionary and Napoleonic wars by the French Cavalry.
REFERENCES: Les Armes Blamches De La Revolution, by JEAN-Pierre Martin.