SOLD Antique French 19th Century Paris Porcelain Figure OF Turkish Ottoman Soldier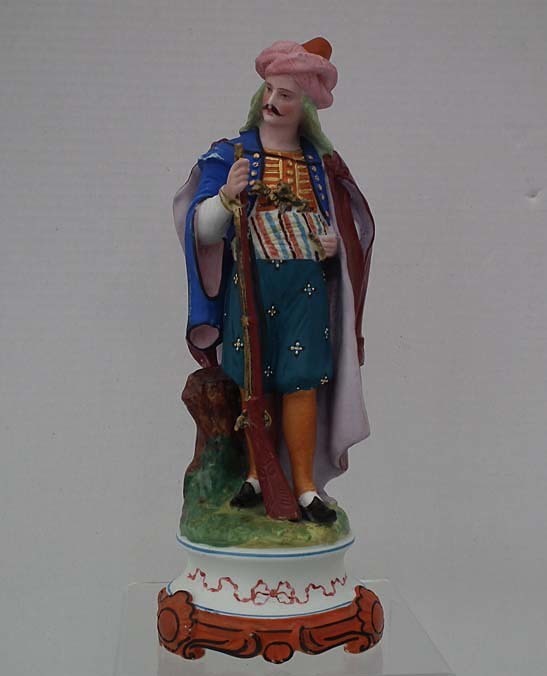 SOLD Antique, 19th century - circa 1863, French Unglazed, porcelain biscuit sculptured, figure, by famous Paris porcelain manufacture Letu Mauger, depicting a turbaned Turkish Ottoman soldier (Zeybek or Başıbozuk warrior) standing on an elaborate grassy base wearing a colorful ottoman dress with gold gilt accessories, holding in his right hand a flintlock musket, his left hand leaning on a stripy sash with two tucked daggers, signed at the base with impressed initials LM.
Stamped at the base with embossed initials L M, French porcelain manufacture in Paris of Letu & Mauger.
Such figurines in Turkish Ottoman dress were made in the 19th century by French porcelain manufactures for Turkish market.
Pierre-Henri and Louis-Xavier MAUGER LETU settled on rue St Lazare in L'Isle Adam, in the old farm St Lazare (the former leper colony in the Middle Ages).
For related figurines by Letu Mauger in the French Museum please see the links below:
http://www.culture.gouv.fr/public/mistral/joconde_fr?ACTION=CHERCHER&FIELD_1=REF&VALUE_1=M0435001940
http://www.culture.fr/collections/resultats?keywords=sceaux&display_mode=list&filter_quand[]=2e+moiti%C3%A9+19e+si%C3%A8cle
CONDITION: The right hand with the gun is broken in the wrist and glued together.
MEASUREMENTS: 30 cm (11.81 inches). Tall, inclusive.