SOLD Antique European gun powder flask horn 17th - 18th century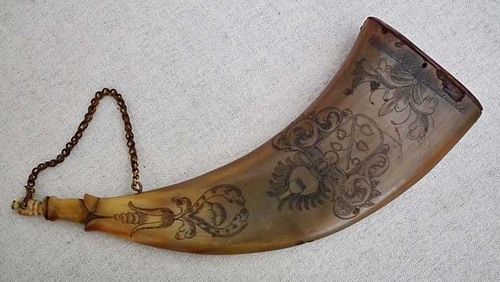 SOLD Antique, late 17th–early 18th century European gun powder flask horn. DETAILS: Curved flattened cowhorn body the inner face finely engraved with Heraldic Coat of Arms and the outer engraved with martial trophies. The nozzle carved as a snout fitted with its original bone plug with the brass chain.
REFERENCES: Related powder horn is published in the book 'The Powder Flask" by Ray Riling Page 239, illustration No. 45.
We will provide the buyer with a copy of the page from the mention reference together with a certificate of authenticity.
CONDITION: Old crack in the nozzle.
Overall length with the stopper: 25cm (9 7/8 in).