SOLD Antique Early 19th century French Napoleonic Line Infantry Officer's Sword Epee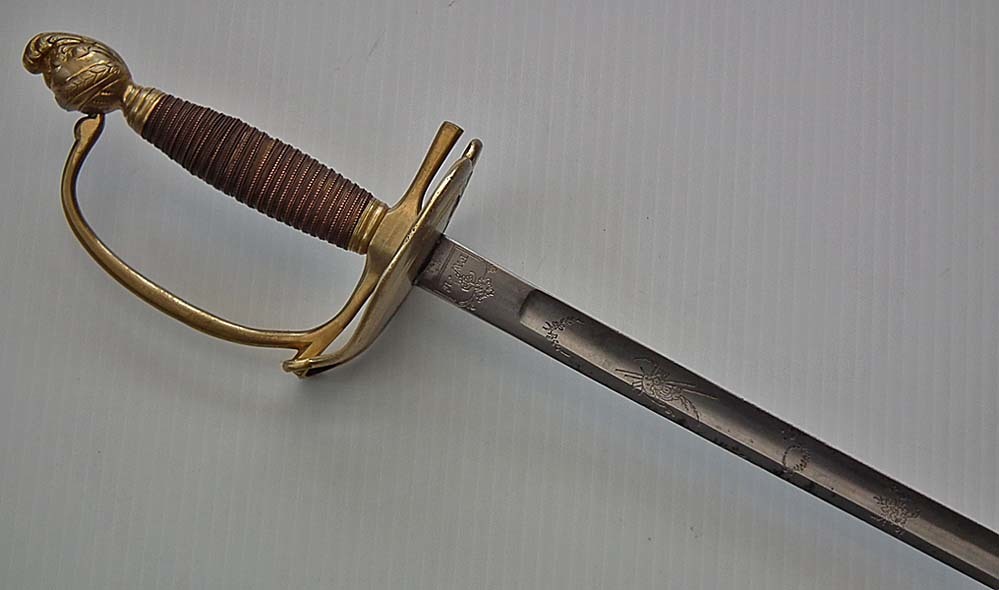 SOLD Antique circa 1800 A.D. French Napoleonic Line Infantry Officer's Sword – Epee. Details: The gold gilt brass hilt comprising a boat shaped guard decorated with shell a pair of straight swelling quillons, knuckle – guard, and typical plumed helmet pommel ' retaining its original wooden grip bound with finely twisted copper wire, with sturdy straight single edged blade with a fuller engraved with martial trophies and foliage, marked at the ricasso with the maker initials.
REFERENCES:
1.Les tresors de l'emperi, l'armee de napoleon by Vincent Bourgeot. Page 160-161
2. Des Sabres Et Des Epees by Michel Petard, Tome Troisieme page 158-159.
CONDITION: The sword is in good condition considering its age, with signs of usage, gold gilding worn.
MEASUREMENTS: Overall length: 99cm (39 1/2 inches), length of the blade: 83 cm (32 1/2 inches).