SOLD Antique Early 19th Century British Officer Gorget Of The Foot Guards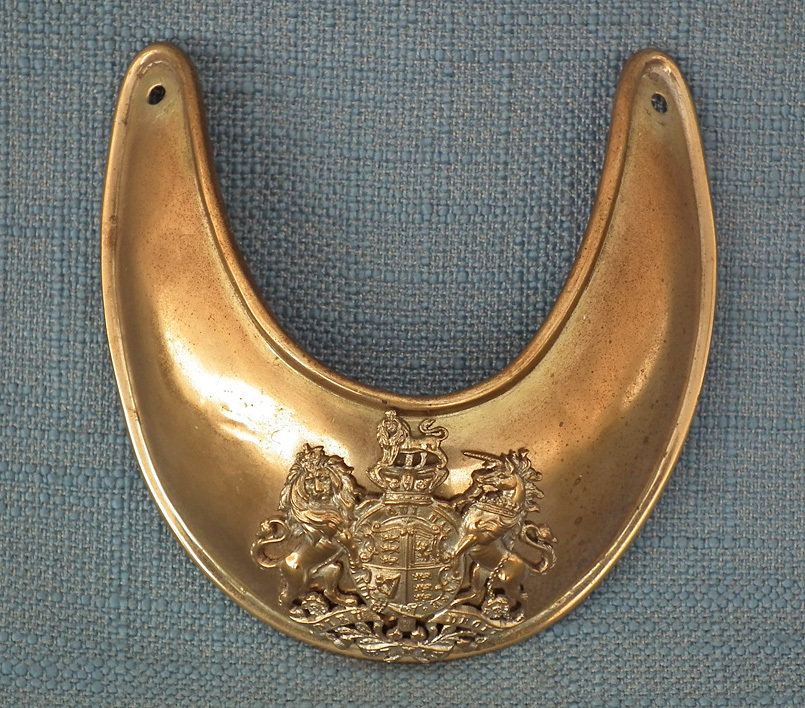 SOLD Rare Authentic Antique, early 19th century British Officer Gorget of the Foot Guards, in characteristic form made of thick hand hammered copper, with rolled borders with fine contours: the upper loops with piercings for a suspension cord. The exterior with gilt finish(worn), and applied with silver plated (worn) relief, Royal coat of arms of the United Kingdom, comprises the motto, "Dieu et mon droit" (God and my Right), as well as the Garter circlet which surrounds the shield, inscribed with the Order's motto, "Honi soit qui mal y pense" (Shamed be he who thinks evil of it). The crest is a statant guardant lion wearing the St Edward's Crown, himself on another representation of that crown. The dexter supporter is a likewise crowned English lion; the sinister, a Scottish unicorn.

CONDITION: Age and usage is showing, with a few very small dings in the copper, the gilt finish has been polished off with light remains of gold plate, wear to the silver finish of the British coat of arms, with light remains of silver, but generally good condition.

MEASUREMENTS: Approximately 9.7 cm x 9.5 cm. (3 13⁄16 inches x 3 47⁄64 inches)