SOLD Antique early 18th -19th century Painting of Virgin Mary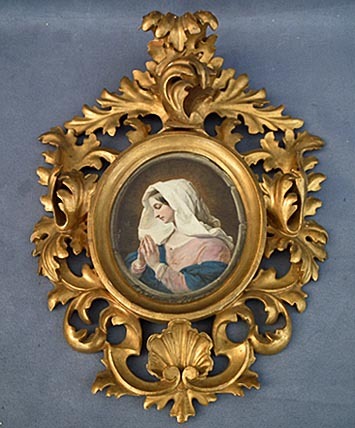 SOLD Antique 18th -19th century extremely fine hand painted with great detail on paper oval painting depicting the Blessed Virgin Mary, with hands folded in a prayer posture, wearing a purple dress, representing the Passion of Jesus, with a blue mantle representing her perpetual virginity, and a cloaked veil with a sun ray aureole above her head.
Signed illegibly at the bottom. In its original Florentine elaborately hand carved gilt wood frame.
MEASUREMENTS: Dimensions with the frame: 36 cm x 27.6 cm (14 1/8 in x 10 7/8 in). Dimensions of the painting: 14.2 cm x 12 cm (5 5/8 in x 4 3/4 in).
CONDITION: The painting is in very good condition, no repairs or restorations whatsoever. The wooden frame is chipped.