SOLD Antique Chiurazzi Bronze Sculpture Nude Male Athlete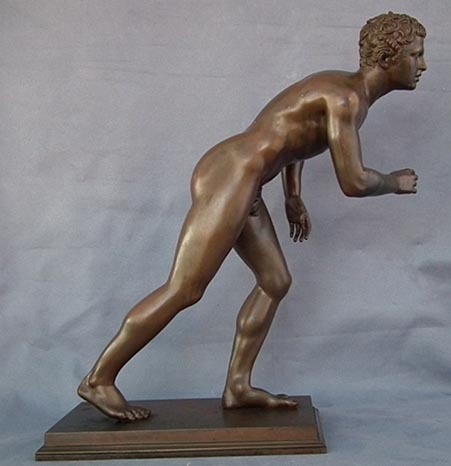 SOLD Antique circa 1900 A.D. Italian bronze sculpture of a classical Greek athlete by the famous Chiurazzi Foundry in Naples. The sculpture with dark brown patina is superbly executed with stunning detail, eyes, hair, fingers, mounted on a rectangular base, signed with its circular foundry signature "Chiurazzi Napoli".
DIMENSIONS: Approximately: Height: 53 cm (21 in). Overall Length: 50.7 cm (20 in).
CONDITION: In good condition considering its age, except for three fingers in the right hand that are missing, to get better detail, the fingers in this fine sculpture were cast separately, there are visible short wires sticking out by which the fingers were connected to the hand.
Please note that most classical bronze figures on the market exposed as Chiurazzi, are without foundry signature, and just attributed to Chiurazzi. This particular Sculpture is authentic Chiurazzi artwork, with the Chiurazzi Napoli foundry signature.