SOLD Antique Chinese Western Jin Dynasty Celadon Brush Washer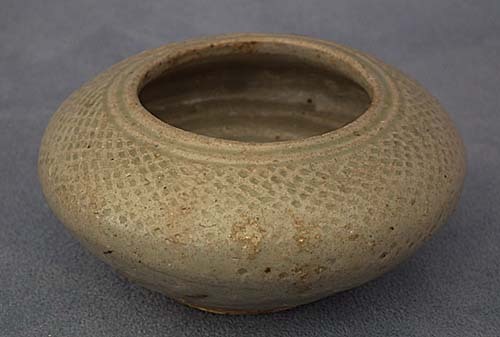 Antique Chinese Western Jin Dynasty (265- 316) Brush Washer Pot stoneware in a compressed globular form with a celadon olive – green glaze decorated with an incised pattern around the shoulder, and with two narrow rings impressed around the mouth.
This pot was acquired by us, together with other oriental antiques, from the former most important Canadian private collection of oriental art. This pot comes from the former collection of the Brantford museum, the museum stock markings are printed on the paper label. The information on the provenance will be provided to the buyer.
Diameter: 8.5 cm (3 3/8 in), Height: 3.8 cm (1 1/2in).
CONDITION: Very good overall condition with some minor chips in the glaze, there are no cracks, or repairs.