SOLD Antique Chinese Tibetan Cloisonne Enamel Ewer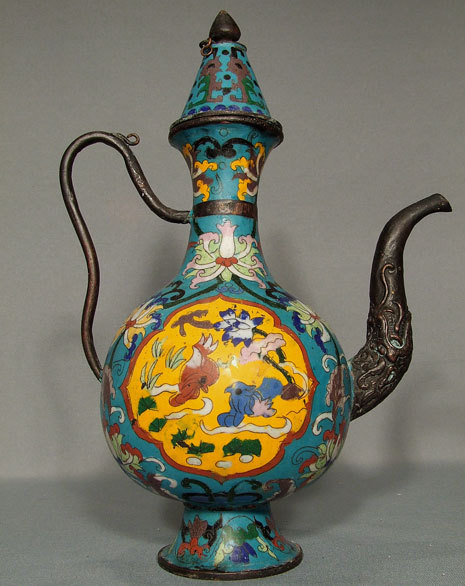 SOLD Authentic antique Chinese Qing Dynasty (1644- 1912.AD) cloisonne enamel ritual ewer and cover made for the Tibetan market. The pear–shaped body rises to a slender flared neck with a rim and is mounted on a flared foot with a high 'S'-shaped copper spout with a monster mask and plain copper handle. The sides are decorated with two shaped panels enclosing flowers and birds, the composition is reserved on a yellow background and decorated all over with lotus scroll on the enamel in tones of green, pink, yellow, and blue, on a turquoise background topped by a cover.
MEASUREMENTS: Height: 28 cm (11 in) Width: handle to spout: 20 cm (7 7/8 in).
CONDITION: Good; no cracks or restorations except for one small chip in the yellow enamel on the panel.