SOLD Antique Chinese Sang-de-boeuf Vase Qing Dynasty 18th-19th Century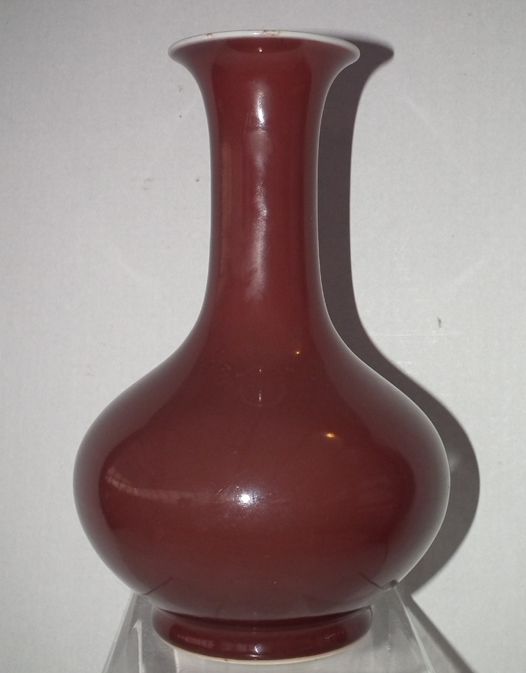 SOLD A superb quality Antique Chinese sang-de-boeuf bottle vase, Qing Dynasty period, 18th-19th century. Converted to a lamp in first half of the 20th century, fitted for electricity, with wood stand and fitted on the base and the mouth with custom, made to the size, decorative brass mounting with European design.

DETAILS: The bottle vase with low round body and tall slender neck with flared lip, covered by a rich, heavy sang-de-boeuf glaze flowing to a lighter colored feathery pattern circling the lower body. The interior in whitish - pale Celadon tone, thick dripping glaze.

CONDITION: The vase is in good condition, considering its age of more than 100 years, with no cracks, restorations, or repairs, except for a hole at the base of the vase which has been pierced for the electrical cord, since in the first half of the 20th century; many antique Chinese porcelain vases were converted to lamps. The rim of the neck with minor chips in the glaze. Otherwise in good condition. There are some numbers engraved in the glaze on the lower part of the body, below the feathery pattern, possibly the collection catalog number.

DIMENSIONS: Height: 29.5 cm (11.61 inches). Width: 19 cm (7.48 inches).