SOLD Antique Chinese Qing Dynasty Reticulated Porcelain Sancai Glazed Vase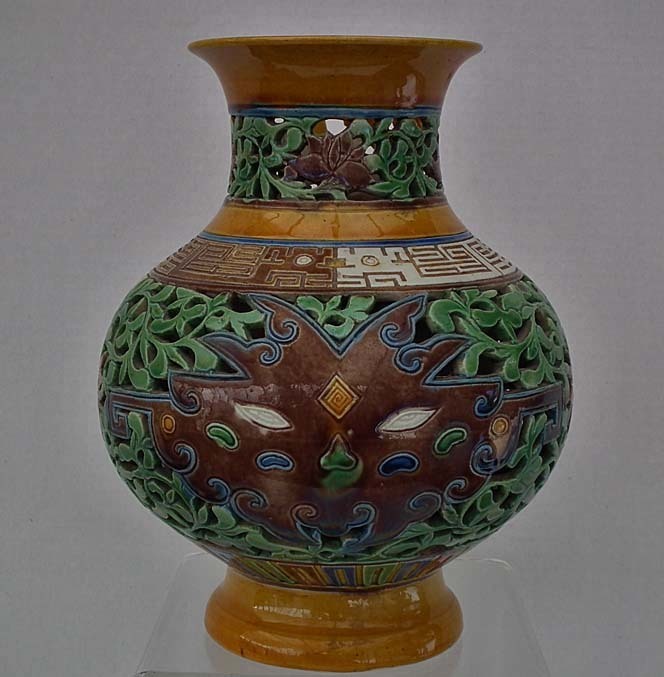 SOLD very rare authentic antique Chinese Qing Dynasty (1644-1911 A.D.) superb quality reticulated double walled porcelain vase of globular form with waisted neck and foot. Body entirely covered with sancai glaze: Amber, green, and brown as well with cobalt blue highlighting. The two opposite sides decorated with pierced archaic brown enamel taotie masks and incised in Fahua manner amongst pierced green enameled plantain leaves with brown peonies. Shoulder decorated with friezes of archaic stylized dragons incorporated within a key design motifs. They low glazed trumpet neck adorned on the middle with pierced green enameled leaf designs with brown blossom among cobalt blue and brown bands.
The previous owner had purchased the vase from American, New York antique dealer in the early 60ts.
This is the first time that the vase is offered for sale.
We had tried to find a comparable vase in possible references including books and internet sources, but there is not any existing comparable example except on some other vases which are not made of porcelain but of a poor quality pottery vases.
CONDITION: Rim of the neck was broken and reglued (please see the pictures). A flaw on the rim of the base that occurred during the firing process (firing crack).
MEASUREMENTS: Height: 22.9 cm (9 inches).Diameter: 18.5 cm (7.28 inches).
WEIGHT: 1.693 kg