SOLD Antique Chinese Qing Dynasty Pink Porcelain Vase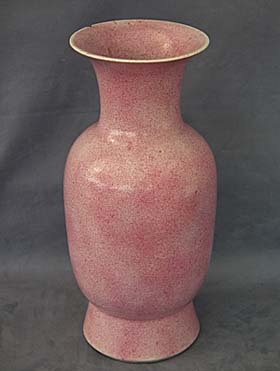 SOLD Large antique Chinese 19th century Qing Dynasty monochrome pink glazed of "Robin Egg" type porcelain vase of baluster shape raised on a tall pedestal foot with a trumpet neck. A white glazed bottom painted underglaze in cobalt blue with two rings.
CONDITION: The vase is in good condition, considering its age of more than 100 years, with no cracks, restorations, or repairs, except for a chip on the rim of the neck. There is a hole drilled at the base of the vase, as in the first half of the 20th century, many antique Chinese porcelain vases were converted to lamps.
Due to the fact that the market is flooded with reproductions of Chinese antiques, we would like to inform our clients that all our artifacts are 100% authentic antiques, not reproductions, and are accompanied by a Certificate of Authenticity.
Height: 45 cm (17 3/4 in).