SOLD Antique Chinese Qing Dynasty embroidered Silk Hand Purse to Robe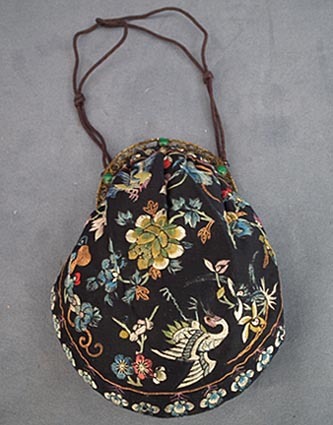 SOLD Antique 19th century Qing Dynasty Chinese Lady's Hand Purse. Details: Navy blue satin Silk embroidered in coloured floss silks, with flowers and birds, highlighted with metallic thread.
The interior is lined in emerald – green silk damask woven in a fine pattern.
This outstanding and hard to find purse has a beautiful silver filigree crown frame, with scrolled motif jeweled with six malachite stones.
Please note that most of the antique Chinese Lady's purses on the market are made for export to western countries, this particular Purse is made to accompany a Chinese Qing dynasty lady's Robe.
CONDITION: A few loose stitches, small round holes in the filigree, most likely from missing stones, otherwise in good condition considering its age.
HEIGHT: 18 cm (7 1/8 in).