SOLD Antique Chinese Qing Dynasty Embroidered Large Temple Altar Frontal Hanging Cloth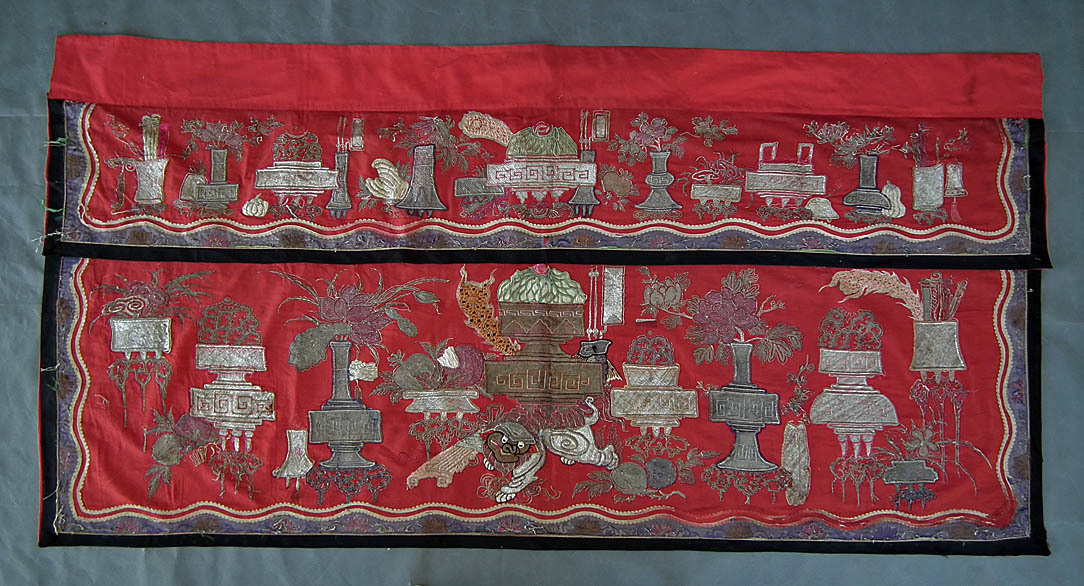 SOLD Antique Chinese Qing dynasty late 19th century Large Temple Altar frontal hanging, the crimson silk embroidered in silver metallic thread and satin silk stiches with Chinese guardian lion Fu Dog amongst vases and incense burners and bordered by purple and black silk bands. The back is lined in plain red cotton fabric.
DIMENSIONS: Approximately: Length: 188 cm (74.02 inches) Width: 96 cm (37.8 inches).
CONDITION: Showing the age and usage, some loose of threads, some tears, purple and black silk bands worn with tears, spot of stain marks, partial age related wear. We do not perform any repairs or restorations on our antiques. There are no holes or applied patches. Please note that this is an antique, over 100 year old textile, which was well used, so a perfect condition cannot be expected.
This embroidery comes from an old Canadian collection of Oriental Art, including Chinese embroidery and related items which we are in the process of photographing and placing for sale for the first time.
Due to the fact that the market is flooded by reproductions of Chinese textiles which for inexperienced collectors look the same as the authentic antiques textiles, we would like to inform our clients that this is a 100% authentic antique Chinese Qing Dynasty item and not a reproduction, and is accompanied by a Certificate of Authenticity.