SOLD Antique Chinese Qing Dynasty Damask Silk Robe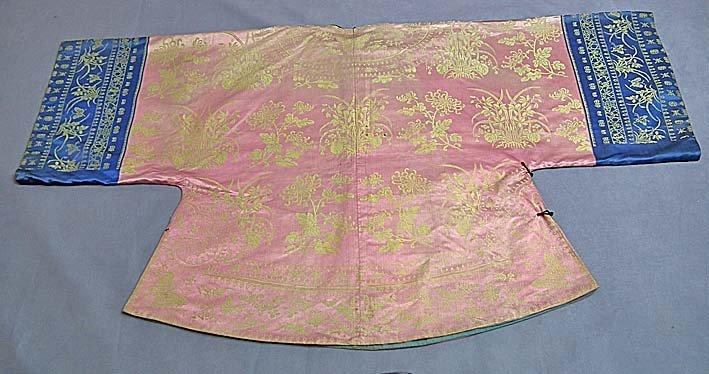 SOLD An unusual antique 19th century Chinese Qing Dynasty women's informal Robe-Coat in the Manchu style. Pale pink gauze Damask Silk woven with a floral pattern of chrysanthemum springs and other flowers bordered with butterflies in flight amidst peonies, sleeves with Royal blue satin cuffs, woven with grass orchids, bordered by auspicious emblems. The flowers are emblematic of spring and summer, and the peonies signify wealth and rank, indicating that this Robe belonged to a lady of the court. Lined in light blue silk.
MEASUREMENTS: Dimensions when placed flat down: Approximately 152.5 cm (60in) by 87.5 cm (34 1/2 in).
CONDITION: There is some discoloration with faded areas and stain marks. There are no holes or applied patches.
REFERENCES: (1) "In The Presence of the Dragon Throne" by John E.Vollmer (2) "Silks for Thrones and Altars" by Myrna Myers (3) "When Silk Was Gold" by James C.Y Watt & Anne Wardwell
This Robe was recently acquired from an old Canadian collection of Oriental Art which includes Chinese textiles, and related items, that we are in the process of photographing and placing for sale for the first time.
Due to the fact that the market is flooded by reproductions of Chinese robes and older theatrical robes which for inexperienced collectors look the same, we would like to inform our clients that this is a 100% authentic antique Chinese Qing Dynasty Robe and not a reproduction, and is accompanied by a Certificate of Authenticity.,