SOLD Antique Chinese Ming Dynasty Terracotta Head Avalokiteshvara Bodhisattva Guanyin Quan Yin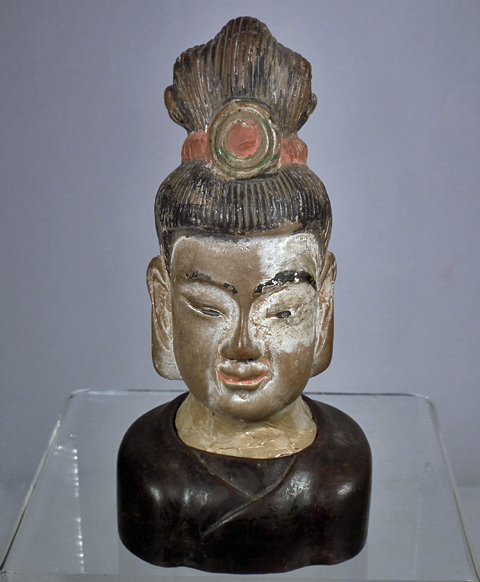 SOLD Antique, Chinese, Ming Dynasty (1368-1644), carved and polychrome Terracotta Head of an Avalokiteshvara Bodhisattva, also known as Guanyin, or Quan Yin. The face with crisply carved features, her soft lips set in a gentle smile, enhanced with vermilion pigment, the eyes half-closed in contemplation, below the black polychrome gracefully arched brows, flanked by the long ears, her hair arranged in an elaborate high chignon, forming a tight scroll carefully carved in parallel grooves, and highlighted in black polychrome and tied with ribbon, adorned on the front by an oval medallion painted in red and traces of green pigment.

The custom made, black lacquered, wood base carved in the form of the upper part of the robe, is a later addition from early part of the 20th century.
CONDITION: Damaged with signs of old repair.
MEASUREMENTS: Height including stand: 16.5 cm (6 1/2 inches).