SOLD Antique Chinese Jade Libation Cup Ming - Qing Dynasty 17th century-19th century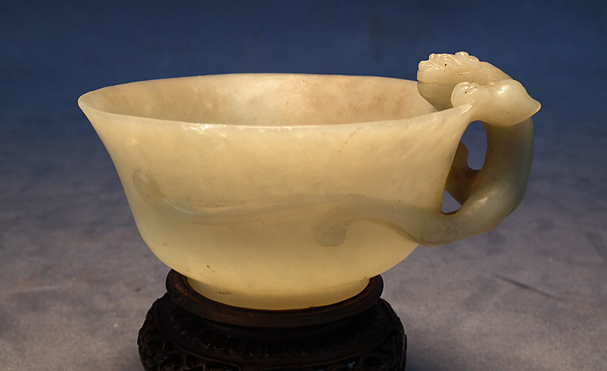 SOLD Antique Chinese Ming - Qing Dynasty 17th-19th century Libation cup made of Nephrite Jade of celadon color, with small area of golden brown skin, natural white and brown inclusions and natural veins, carved in the form of the circular bowl, resting on a small oval foot-rim. The handle is carved in the form of a stylized Chi dragon climbing up the side. The dragon paws grip the rim while the body arches outward and the tail coils back onto the sides of the cup. The cup comes with a beautiful rosewood stand.
CONDITION: There is a very small white inclusion on the rim of the cup beside the left paw of the dragon. We can't tell if it is a natural imperfection in the stone or mechanical damage. One leg of the rosewood stand is broken off. (SEE PHOTOS BELOW).
MEASUREMENTS: Excluding the stand. Width from the back of the dragon to the opposite rim: 10 cm (3.94 inch). Height from the base of cup to the top of handle: 5.4 cm (2 1/8inch).