SOLD Antique Art Nouveau Sterling Silver Diadem Or Belt Posibly by William B. Kerr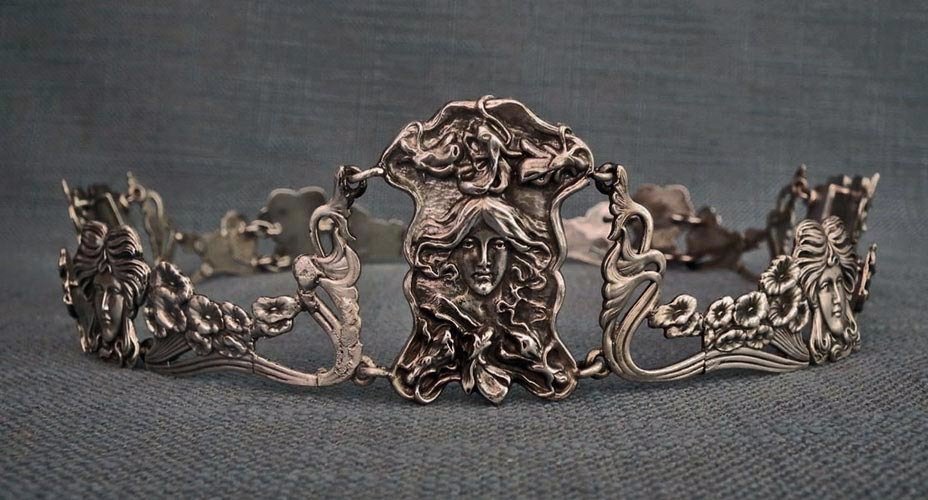 SOLD Antique, circa 1900 A.D. Art Nouveau sterling silver diadem of outstanding work, composed of 15 panels. 7 of the panels depicting a woman's head with flowing hair, including 1 large central panel and 2 medium size panels on each side and 4 smaller heads of women (2 on the front and 2 on the back) each divided by panels decorated with floral and foliate motifs, 8 in total. Each panel" Hollow-ware "is created of two soldered sterling silver halves, the front of repoussé designs: a technique of raising metal, working from the back side and hand finishing (engraved) at the front, and then soldered with a flat back plate and connected by silver loops. Three of the panels have on the back bars - loops to attach a fabric ribbon.

This type of jewelry work, to repoussé designee on the front plate and solder the back plates, was very precise and time-consuming work. Since the Diadem is most likely professionally custom redesigned from the belt, possibly before WWII, therefore, the part with the manufacture marks was not included in the diadem or during the process of reconstructing, it was just simply removed. In this circumstance, we are not able to tell which art studio created this object. Similar art work in silver was created during the Art Nouveau period by:

William B. Kerr,
Arthur Johnson-Smith,
Unger Brother (Unger Bros).

MEASUREMENTS, approximately:
Circumference of the diadem: 60 cm.
Height of the highest central panel 4.7 cm.
Height of the medium panels 3.2 cm.
Height of the smaller heads of the women 2.7 cm.
Height of the panels with floral and foliate motifs 3.5 cm.

This diadem is crafted from 925 grade Sterling Silver (unmarked but tested)

Approximate total weight: 110 grams (3.88 ounces)

CONDITION: In good condition, free of dents