SOLD Antique Armenian Parcel Gild Silver Filigree Woman's Headdress Decoration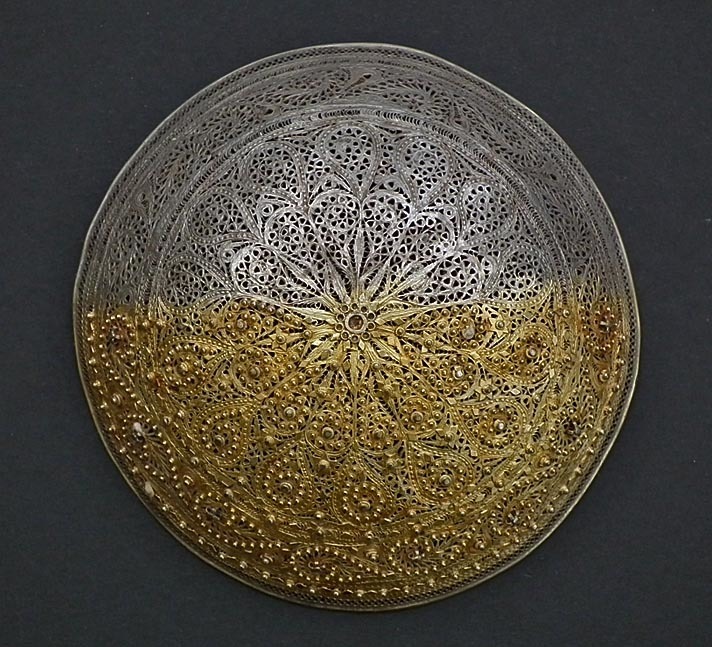 SOLD A rare antique Armenian parcel gold gild silver filigree, splendid young woman's headdress decoration. 19th- century, Armenia - Caucasus, of circular domed form entirely decorated with delicate filigree open wire work, the top with central design of eight pointed star within double rosettes formed of radiating Buta (Paisley) motifs.
Since the silver filigree fine work was time–consuming and expensive, and the back of the headdress was covered by fabric veil, only the gold gilt front half is applied on the surface with raised knobby bead work and star shaped and diamond patterned plaques.
For a comparable Armenian woman's headdress decoration, in the collection of The Russian Museum of Ethnography in St. Petersburg, please see the links below:

http://www.peopleofar.com/wp-content/uploads/Young-woman-headdress-decoration.-Early-20th-century.jpg

http://www.peopleofar.com/2015/11/07/armenian-folk-art-on-display-in-museums-around-the-world/

The headdress is unmarked, as is most of the Armenian filigree silver.

CONDITION: In very good condition considering its age; no dents, no repairs, and no restorations.

MEASUREMENTS: Diameter 15 cm (5.91 inches). Height: 4.5 cm (1.77 inches)

WEIGHT: 122 grams (4.3 ounces).