SOLD Antique 19th century Yataghan Turkish Ottoman Islamic Sword Yatagan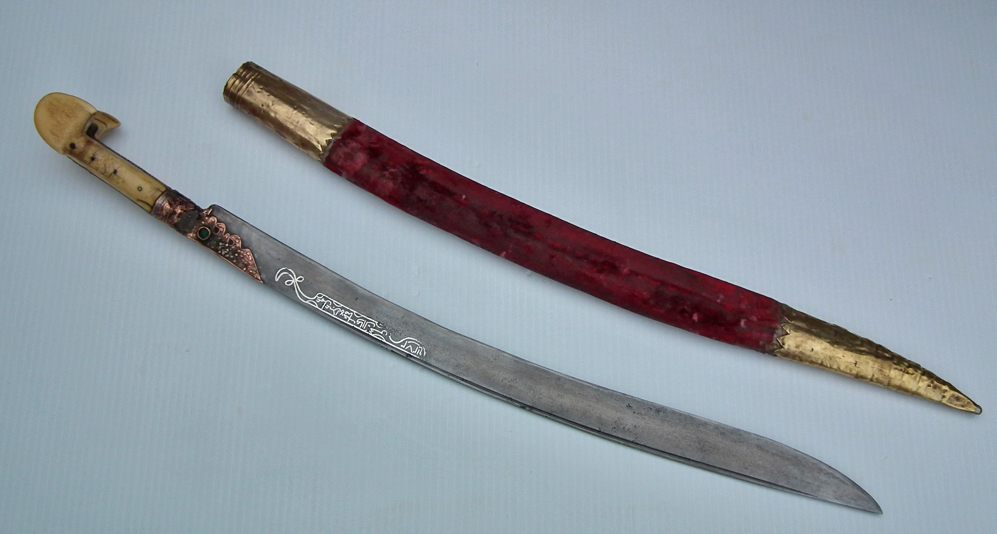 SOLD Antique 19th century Turkish Ottoman Islamic Sword Yatagan with a characteristic ear shaped hilt mounted in alloy of copper mounts decorated in typical Balkan design and inset with two green paste.
A curved single edged blade with a narrow fuller, ornamented on one face of the blade is with silver inlaid script in Arabic calligraphy and dated A.H. 1273 (1856 A.D.) within the elaborate cartouche. The other side is silver inlaid with a six pointed star Khātim Sulaymāni (Seal of Solomon) in a small round cartouche.
In its wooden scabbard, bounded in red velvet fabric and fitted with a large brass chape and locked.
CONDITION: The sword is in good condition considering its age, signs of usage, and wear; the brass chape and locked is with dents, knocks, and repairs; the red velvet is worn and stained; the copper ferula under the hilt is damaged and repaired by tin soldering, the silver inlaid on the blade is in good condition and well visible although with minor losses. All of this can be an aspect from an antique combat sword that is over 150 years old.
MEASUREMENTS
Overall length with the scabbard: 75 cm (29 1/2 inches).
Overall length without scabbard: 68 cm (26 3/4 inches).
REFERENCES:
1) "Yanissari – History Symbols Weapons" by G.E.Vvedensky.
2) "Zbirka Jatagana" by Dora Boskovic.
3) "Les Armes Blanches do Monde Islamic" by Alain Jacob.
4) TURKISH ARMS by E.G.Astvatsaturjan.