SOLD Antique 19th Century Turkish Ottoman Islamic Silver And Niello Belt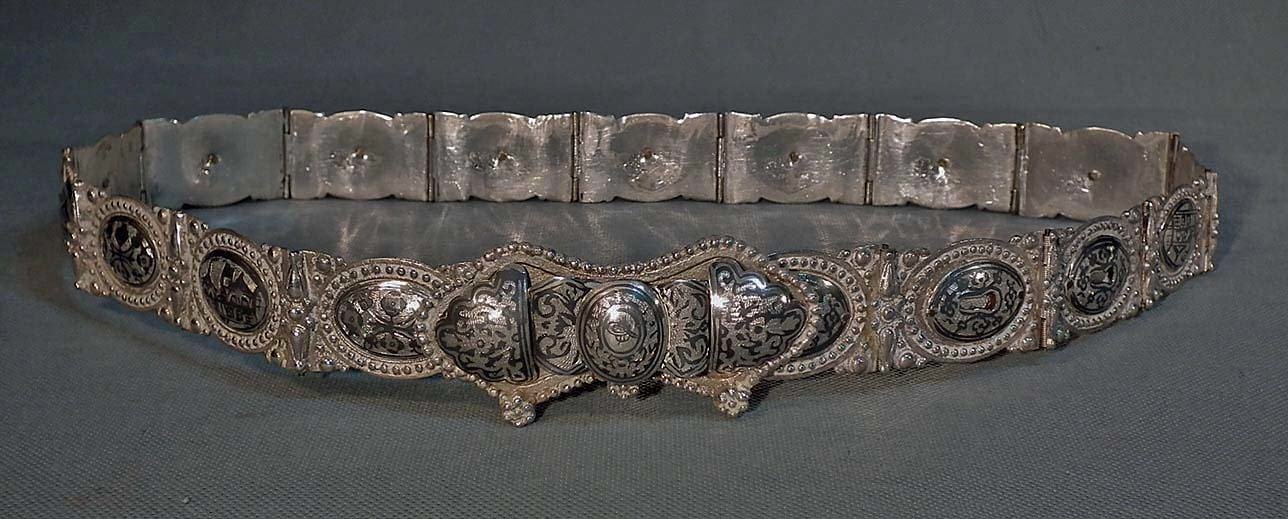 SOLD A splendid antique, 19th century, Turkish Ottoman, Islamic solid Silver and Niello belt composed of 18 elements connected by hinges.
A buckle of undulating lobed form, decorated with central oval medallion with Sultan Tughra ,14 shaped rectangular beaded panels set on the center with raised oval bosses, 7 of them depicting a building and 7 decorated with foliate niello design, and fixed on the end of the belt with 3 panels decorated with niello arabesques, and pierced with holes to be attached to the back of the buckle. Each element stamped on reverse with tughra mark for 900 silver standart.
CONDITION: In its original, very good condition, no repairs.

MEASUREMENTS:
Overall length: 88.9 cm (35 inches).
Height of the buckle, including beaded adornment: 4.5 cm (1.77 inches)

WEIGHT: 367 grams (12.95 oz.)