SOLD Antique 19th Century Napoleonic European Mameluke Sword Possibly Russian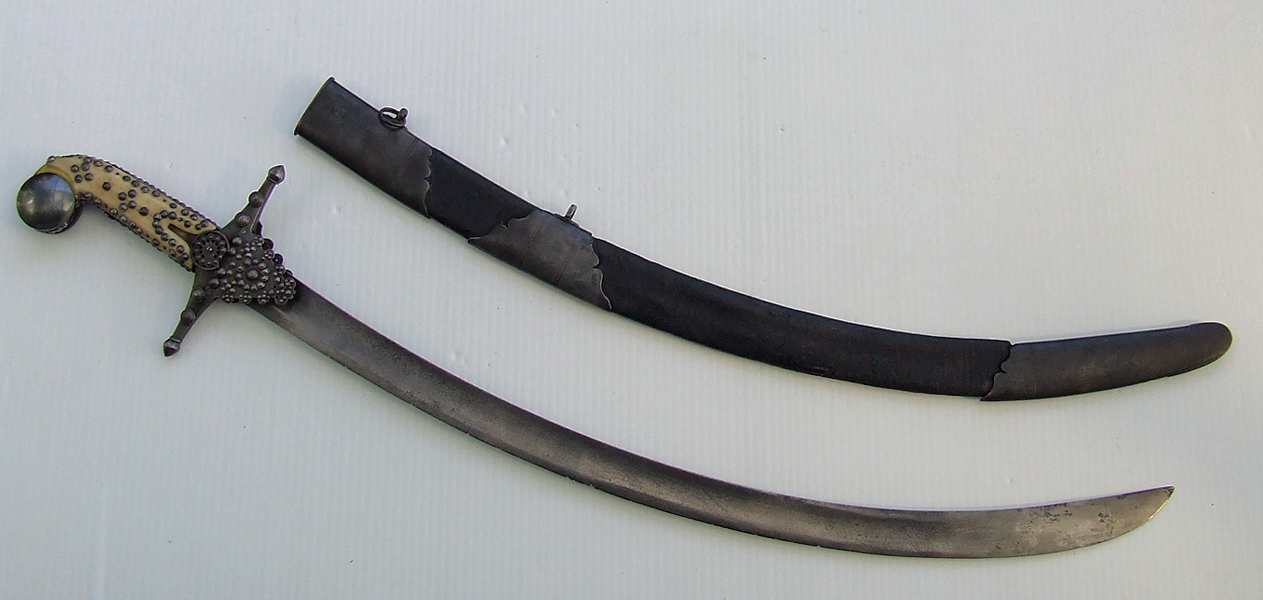 SOLD A very unusual Antique, early 19th century, Napoleonic era European saber in Mameluke manner with a curved single edged steel blade with a wide full-length fuller, the hilt in typical Mameluke fashion set on both sides with about 371 different size faceted studs in the Typical Russian Style of the Tula Workshops. In its leather scabbard with large steel mounts.

The swords in Mameluke style became popular in Europe after the campaigns in Egypt in (1798–1801). During the Napoleonic wars the swords in this fashion were made in most of the European countries.

Since the sword doesn't have any maker's marks, and no other marks or engravings, it is very difficult to tell the country of its origin, however, this determines that the sword was not mass produced in large numbers by the arms manufacturer (as all of this type of the swords have a maker's name) but was custom made in one example sword.
Please view the links below to see the Russian Tula swords and other objects decorated with faceted studs.

https://new.liveauctioneers.com/item/6755596_a-very-rare-diamond-shaped-tula-mounted-sabre

http://www.christies.com/lotfinder/furniture-lighting/garde-depee-depoque-neoclassique-probablement-tula-fin-5374452-details.aspx

https://www.rareburg.com/item/cut-steel-tula-smallsword-with-toledo-blade-russian-c-1780-I8ADHBMQ4VQW

http://je-nny.livejournal.com/6052567.html

http://rumpus.ru/istoriya/paradnoe-oruzhie-xvii-xixvv-sabli-i-sh

http://www.metmuseum.org/toah/works-of-art/2002.115/

http://www.metmuseum.org/art/collection/search/27016

A sword with the similar Mameluke hilt, also decorated with faceted studs, is published in the Christie's catalogue "ANTIQUE ARMS, ARMOUR AND MILITARIA" Lot 91 London 16 July 2003

Described as A RARE RUSSIAN (TULA?) DRESS SABRE
EARLY 19TH CENTURY

Estimate £1,500 - £1,800 ($2,384 - $2,860)



Price realized £8,963 ($14,241)



Please see the two last pictures attached to the listing. The buyer will be provided with copy of the page from the mentioned reference along with a certificate of authenticity.
This price is from 13 years ago when the pound sterling had a high value of exchange rate).

CONDITION: Showing the age and heavy usage, blade, slightly pitted, some small nicks from combat on the edge, hilt slightly damaged, missing studs, pommel with old repair. Leather scabbard dry with some age wear overall, middle suspension steel mount split on the join, absence of the suspension ring. All of this is an aspect of an antique used combat sword that is over 200 years old.

MEASUREMENTS:
Overall length with the scabbard: 77 cm (30.32 inches)
Overall length without scabbard: 76 cm (29.92 inches)
Overall length of the blade: 61 cm (24.02 inches)