SOLD Antique 19th century Islamic Indian miniature portrait Bahadur Shah Zafar II Mughal Emperor of India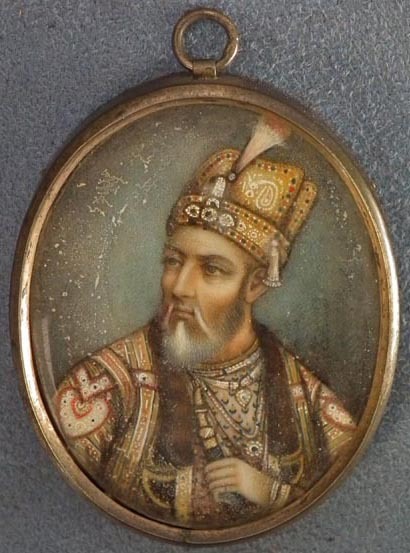 SOLD Antique 19th century Islamic Indian miniature portrait depicting Bahadur Shah Zafar II The last Mughal emperor of India, (1775-1862)
The portrait is hand painted on natural wafer by very fine brush in gouache and gold with outstanding detail and beautiful colors.Backed by paper Inscribed in ink "Bahadur Shah King".The portrait retains its original gild silver box frame with suspension ring and the front and back glass.
CONDITION: This original painting is in excellent condition with the exception of some faded area, no restorations or repairs.
MEASUREMENTS: 5.2 cm x 4 cm (2 in x 1 5/8 in).