SOLD Antique 19th Century Islamic African Manding Mandingo Malinke Sword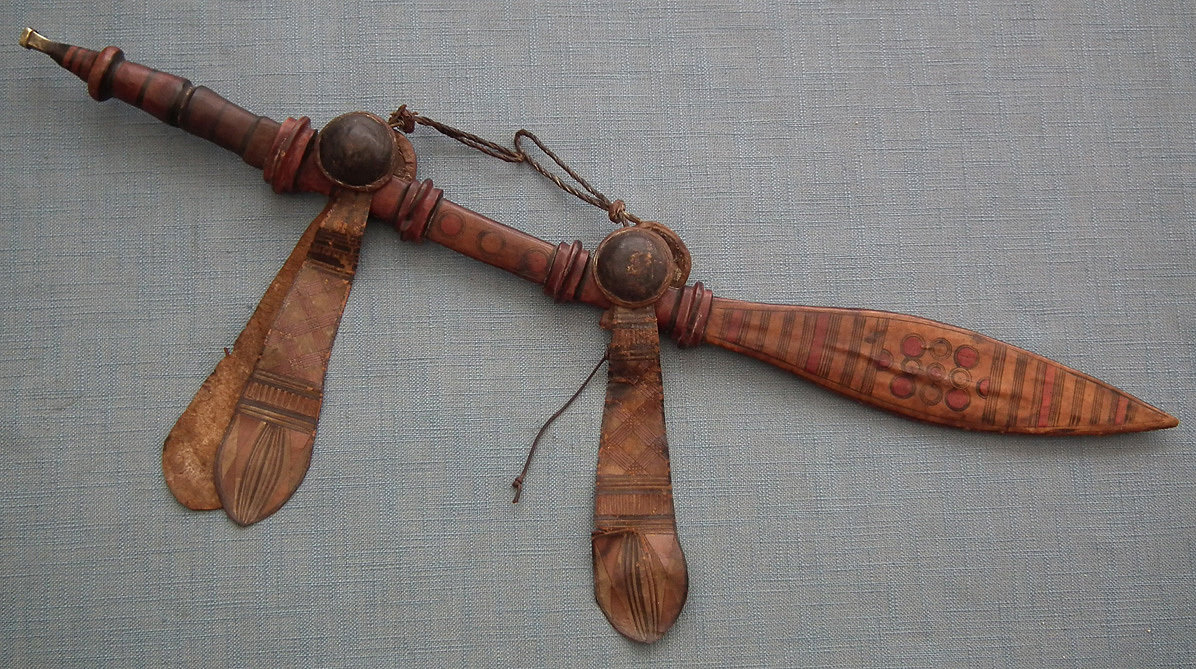 SOLD Very nice example of an antique late 19th century Islamic West African Manding - Mandingo - Malinke, sword made in traditional manner, comprises of a hand forged roughly finished slightly curved single edged steel blade with fuller, made by the Mandingo tribal blacksmith in the 19th century European military sabre style. The wood hilt is cover in painted and tooled leather with a brass finial-like pommel. The wood covered scabbard with leaf shaped widening tip, decorated with painted tribal design and adorned with raised transverse tooled bands, leather tassels, and discs shaped medallions adorned with plaited Grass/Straw geometrical pattern.

MEASUREMENTS
Overall length with the scabbard: 77 cm (30 1/4 inches)
Overall length without the scabbard: 75 cm 29 1/5 inches)
Thickness of the blade spine: 8 mm (0.31 inches)

CONDITION: This sword is in good condition considering its age to be over 100 years showing its age and usage, the two tassels are damaged, the fourth tassel is lost.

REFERENCES:
1.African arms and armour by Christopher Spring. Page 40. No31.
2. Islamic and Native Weapons of Colonial Africa: 1800-1960 by Anthony C. Tirri.Page.560-563
3. Afrikanische Waffen by FISCHER, Werner - ZIRNGIBL, Manfred. Page 22

We will provide the buyer with photocopies of the pages from the mentioned references together with a certificate of authenticity.

The Mandinka (also known as Mandenka, Mandinko, Mandingo, Manding or Malinke)[9] are an African ethnic group. The Mandinka are the descendants of the Mali Empire, which rose to power in the 13th century under the rule of the Malinké/Maninka king Sundiata Keita.
Originally from Mali, the Mandinka gained their independence from previous empires in the 13th century and founded an empire which stretched across Africa. They migrated west from the Niger River in search of better agricultural lands and more opportunities for conquest.

More than 99% of Mandinka in contemporary Africa are Muslim.

The Mandinka people live primarily in Africa, particularly in The Gambia and Guinea. Major populations of the Mandinka people also live in Mali, Sierra Leone, Ivory Coast, Senegal, Burkina Faso, Liberia, Guinea-Bissau, Niger and Mauritania.